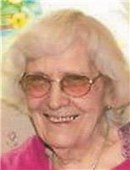 Vivian J. Ochampaugh, age 94, of Sturgis, passed away Thursday morning, Sept. 20, 2018, at her home.
She was born Nov. 2, 1923, in Flint, a daughter of the late Beaumont and Grace Lucille (Phillips) Lavender.
Mrs. Ochampaugh resided in Sturgis for the past year and a half. She had lived in Kalamazoo for many years and her early life was spent in the Detroit area.
In 1941, she married Richard Ochampaugh, who preceded her in death July 13, 1953.
Mrs. Ochampaugh was a registered nurse for more than 50 years, working in many facets of the medical field, including hospitals, clinics and home health care, retiring at the age of 81.
She was an avid reader and enjoyed traveling, cooking, sewing, crocheting, playing cards and working crossword puzzles. Mrs. Ochampaugh had hobbies and interests, but what she truly loved was time with her family and Eric and Mary's dog Diesel.
She is survived by three sons, Richard (Barbara) Ochampaugh of Gregory, Michael (Karen) Ochampaugh of Coldwater and Timothy (Deb) Ochampaugh of Howell; daughters-in-law Carol Ochampaugh of Battle Creek and Trudy Wade of Palm Harbor, Fla.; 12 grandchildren; 24 great-grandchildren; five great-great-grandchildren; and several nieces and nephews.
She was preceded in death by her parents; her husband; a son, Bob Ochampaugh; two sisters, Norma Jean Thompson and Audrey Rose Thompson; and a brother, Charles William Lavender.
In accordance with her wishes, cremation has taken place. A private gathering of family and friends to honor and celebrate the life of Vivian J. Ochampaugh will be held at a later date.
Hackman Chapel of Hackman Family Funeral Homes, 114 S. Nottawa St., Sturgis, is entrusted with the arrangements.
In lieu of flowers, the family suggests those wishing to make a memorial donation in Mrs. Ochampaugh's memory consider Heartland Hospice, 8075 Creekside Drive, Portage, MI 49024.
Her obituary is also at www.hackmanfamilyfuneralhomes.com, where personal messages of support may be left for the family.