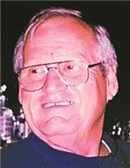 Arthur L. Moyer, age 80, of Colon, passed away Tuesday, October 16, 2018, at his home after several months of failing health.
Art was born July 10, 1938, in Battle Creek, a son of the late Arthur D. and Clara B. (Sly) Moyer.
Art graduated from Colon High School. He served in the U.S. Army from 1956-1959. He had lived in Sturgis several years, moving to his home in Colon on Long Lake in April 1982.
On July 2, 1961, he married Donna J. Bussler in Three Rivers.
Art was a career banker. He worked 17 years in Dowagiac at Local Finance, then in Marshall at Local Finance, then at Local Finance in Sturgis, ending up at Sturgis Bank & Trust, where he retired Feb. 28, 1999, from the Colon location.
Art was a member of Colon Masonic Lodge #73, life member of Colon American Legion #454, Sturgis Elks #1381, Fraternal Order of Eagles in Sturgis, where he was a Golden Eagle, member of Colon Kiwanis Club, where he had served as president, 25-year member of Sturgis Shriners Club, where he had served as president, FMCA president of Michigan Knights, had been a member of Colon Lions Club and was Citizen of the Year in 2000. Art was a big Michigan State fan, enjoyed casinos and traveling.
He is survived by his wife, Donna J. Moyer of Colon; a daughter, Joanie (Christopher) Schram of Sturgis; grandchildren Juliannah Schram of Los Angeles and Logan Schram of Sturgis; a sister, Gloria (Tom) Hargreave of Leonidas; mother-in-law Phyllis Bussler of Three Rivers; and several nieces and nephews.
He was preceded in death by a daughter, Julie Linn Moyer; and a sister, Gay Moyer.
The family will receive relatives and friends from 2 to 4 p.m. and 6 to 8 p.m. Friday at Schipper Funeral Home in Colon. A Masonic Service will take place at 8 p.m. Friday at the funeral home, with Colon Masonic Lodge #73 presiding.
A funeral service celebrating the life of Arthur L. Moyer will be at 1 p.m. Saturday, Oct. 20, at St. Paul's Lutheran Church in Colon, with Pastor David Grimm officiating. Burial will follow at Lakeside Cemetery in Colon, with Military Honors conferred by the U.S. Army Honor guard and Colon American Legion.
If desired, memorials by be made in memory of Art to Colon Foundation, St. Paul's Lutheran Church or the charity of one's choice .