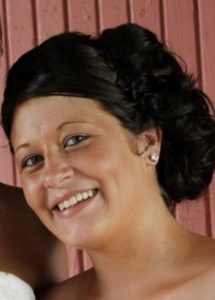 Brittany K. Stears, age 25, of Constantine, passed away Wednesday, October 24, 2018 following a brief illness. Brittany was born March 16, 1993 in Three Rivers, a daughter of John & Sheila (Stone) Stears. She graduated from Constantine Tech School in 2012. Brittany enjoyed babysitting, hairstyling and cosmetology. She also had worked at Vaupell Midwest Molding, in Constantine. Brittany attended Riverside Church, and Celebrate 1 Church, both in Three Rivers. She loved the outdoors, canoeing, riding 4-wheelers and watching old movies.
Surviving Brittany are her parents John & Sheila Stears, son Masen Stears, brother Jake (Emily) Lintz , sister Amanda (Tyler) Bellows,all of Constantine, nephew Brycen Bellows, nieces Tayler Bellows & Teigan Bellows, fiancé Daryl Pursel and his daughter Laurie Pursel, Three Rivers, grandmother Mary Anne Stone, Mt. Pleasant,and many aunts, uncles and cousins.
She was preceded in death by her grandparents, Fred & Betty Stears and Eugene Stone.
Relatives and friends will be received Sunday from 2-5 pm at Eley Funeral Home in Constantine. Funeral Services will be held Monday at 11:00 AM at the funeral home. Pastor Jerry Solis of Celebrate 1 will be officiating.Interment will be in Constantine Cemetery. Memorial contributions may be made for her son Masen Stears, C/O John & Sheila Stears.