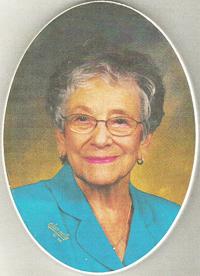 Helen Eleanor (Land) Dunnington went to be with her Lord on Wednesday, Oct. 24, 2018, at the age of 104. She was born May 25, 1914, the second daughter of George and Helen (Beznaw) Land, on Mackinac Island. Her mother passed away when Eleanor was two years old and she was raised by her father's mother Rachel (Land) Rife. Eleanor graduated from Cheboygan Michigan High School in 1932, and graduated from Bronson School of Nursing in 1936. Eleanor was married to Fred Dunnington on January 13, 1936, in South Bend. They had three children in Kalamazoo and moved to Three Rivers in 1940 where they lived for 60 years. They were snow birds of McAllen, Texas for 20 years. She was deceased by her beloved husband Fred in 2000, two daughters Jo Ann Fortaw in 1994, and Sandra Joyce Rodio in 2017; one granddaughter Julia Coker in 207 and one grandson Jeffery Gene Dunnington in 2001; one sister Marquita Vanderhuef; one niece Janet Hughes; five half sisters, Georgiana Moorlag, Jean Lockhard, Kathern Beach, Mary Jane Babbitt, Elva Kennaly, four half brothers, William Land, Arkon Land, Doug Land and Charles Land. She is survived by one son Gene (Joanie) Dunnington of Schoolcraft; five grandchildren and five great grandchildren. Eleanor did General Duty Nursing at Three Rivers Hospital on Spring Street, and worked for Dr. George Shaw and Dr. Stanley Penzotti at the Three Rivers Medical Clinic for 28 years. Eleanor was very talented at crochet, needlepoint, and knitting. Eleanor loved working on puzzles, playing card games, and doing crossword puzzles. She was also a good cook and baker. Eleanor will be greatly missed by her family and friends.
Cremation has taken place by Avink Funeral Home Cremation Society. A memorial will be held at Sojourner Place, 5364 Green Meadow Road,
west off of Drake Road, Kalamazoo, on Thursday, November lst at 2:00 p.m. Memorials may be given to Hospice Care of Southwest Michigan.