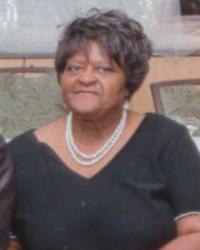 Iverna Shelton, age 75, of College Park, Ga. passed away on Oct. 15, 2018 in Atlanta, Ga. She was born in Chilton, Ala. to the late Thomas and Christanna (Harville) Shelton.
She is preceded in passing by siblings, Odessa Mitchell, Thomas Shelton Jr., Velma Whitten and Oretha Shelton; as well as three brother-in-laws, Ralph Humes, Harvery Rollerson, and Sterling Carter.
She leaves to cherish her loving memory brother, George (Lorraine) Shelton of Three Rivers; sisters, Doris Rollerson of Chicago, Jerlene Humes, of Three Rivers, Willastyne Carter of Elkhart, and Shirley Shelton of Kalamazoo. She also leaves thirty-two beloved nieces and nephews as well as a host of great-nieces and nephews, sister-in-law, Mary Shelton; and brother-in-law, Coy Whitten.
In accordance with the family's wishes a public visitation will be held on Friday, Oct. 26, 2018 from 5 p.m. to 7 p.m. at Hohner Funeral Home of Three Rivers.
Funeral services will take place on Saturday, Oct. 27, 2018 at 10:30 a.m. at Bethel Baptist Church of Three Rivers, with Pastor Kevin J. Lavender, Sr. and Pastor Robert W. Crummie officiating.
Internment will take at Riverside Cemetery of Three Rivers following the service.
Memorial donations in Iverna's memory may be made to The American Cancer Society. Envelopes are available at the funeral home. Online condolences may be left at www.hohnerfh.com.