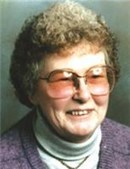 Katherine E. Langworthy, a longtime resident of Three Rivers died Sunday, October 21, 2018 at noon. Paradoxically, she was born as the noon whistle blew, on August 5, 1925 to Glen and Katherine Morris of Park Ridge, Illinois.  The family moved to Cassopolis in 1939.  Katherine started high school in Cassopolis and finished at Maine Township High School near Park Ridge in 1943 because the family moved back to Park Ridge.  She attended St. Mary's College in South Bend, Indiana and graduated in June 1950 with a Bachelor of Science majoring in Chemistry and Home Economics and minors in Math, English and Theology. Her first job following graduation was in foods research at Michigan State College in East Lansing. It was here she met her husband, Gerome Langworthy.  They were married in 1951.  In August of 1955 they moved to Three Rivers with their four children.   She received her teaching license from Western Michigan University in 1962 and went to work at Three Rivers High School.  She finished her degree work and Masters in 1964.
Katherine taught from 1962 until she retired in 1988. She started with 8th thru 12th grades in Home Economics 1, 2, 3 and advanced. The emphasis was on cooking and sewing. She was the foods teacher for five years. Over time she kept inserting other classes: Child Care and Budgeting, Furniture Repair and Upholstery, Commercial Cooking for Chefs.   And heaven forbid, classes covering dating and girl/boy relationships!  In 1969/70 she became Home Economics Department Head. Always on the forefront of innovative change, the department grew and changed under her leadership. Modern women were changing so the education for women had to change too. Girls had to be prepared for the multiple roles they would be living. Boys were recruited because they are a part of families and their life roles were changing as well. Since women now worked outside the home, men needed to help more in the home.
Over the years many new courses were introduced. Family Life courses, Marriage and Family Living, Child Care with actual children to learn parenting and consumer buying skills were offered.  In addition, Housing and interior decoration, food courses that included menu planning, convenience foods, and microwave cookery as well as nutrition were added. She also added special clothing classes that included buying ready-made, wardrobe care, mending and remodeling. Tailoring for business clothing was also addressed.
During her years she found time to be active in other pursuits. She was the Future Homemakers Advisor for over 10 years and coached Girls Track for three years. She served for years on the school Curriculum Council. Faculty Council, and Waiver Committee. She organized the Department Advisory Committee and chaired it for many years. She was instrumental in pushing for a required vocational credit for graduation. Students had a choice of Home Economics, Industrial Arts or a business course. She chaperoned dances and buses to away games. She used to say, "It was fun to be with the students."
Katherine was a 4-H Leader for five years, a Boy Scout Leader and on the Scout Council. She was active in the Daughters of the American Revolution serving as the Regent, Vice Regent, Secretary, Treasurer, Registrar and on numerous committees for the Abiel Fellows Chapter. She gave lectures on history across the State at DAR gatherings.  She also served as State Librarian for one term and for two terms as National Defense Chairman and Scholarship Chairman at the State level. As a 50 plus year member of the Grange, she has been Master, Lecturer, Community Service Chairman and Chair of Women's Activities both locally and for the State Grange. She has also been on the Health and Education Committee and Conservation committee for the State.
For almost 30 years she was on the Board of the Sue Silliman House Museum and had chaired it since 1996. She also acted as a Docent for visitors and tours. Through her interest in the Museum she had become a historian for local and county history. An avid researcher both of genealogy and history, she had in recent years become active in the County History Society and the Genealogy Society.
As a 55 plus year member of Immaculate Conception Catholic Church she was a member of the Daughters of Mary and representative to the Diocesan Council of Catholic Women (CCW). She was active in the Cursillo Movement serving in various capacities.
After retirement she found time to join Church Women United (CWU) where they made quilts for the poor. She was on the National Speakers Staff for DAR giving talks and programs across the State. As a devoted pro-life supporter, she has publicly opposed abortion for over 35 years thru the Church and Right to Life movement. In the classroom she taught the sanctity of life and served on the sex education council.
She enjoyed her adult children, eight grandchildren and eleven great grandchildren. A portion of her recent years was devoted to writing a family history of the Morris/Cunningham ancestors and descendants as legacy for the family. Katherine leaves behind her four adult children, Katherine Elizabeth Robertson, Gerome Langworthy, Michael Langworthy and Patrick Langworthy and 8 grandchildren with one deceased.  She also leaves behind three sisters and one brother.  She was predeceased by three brothers and two sisters.  She will be missed by many.
Viewing will be in the family home, 421 North Erie Street, Three Rivers, Friends may stop by to visit Wednesday and Thursday, October 24-25 from 2:00 p.m. until 7:00 p.m. and Friday, October 26 from 10:00 a.m. until 12 noon.
There will be a Scripture Prayer Service on Thursday, October 25 at 7:00 p.m.
Funeral Mass will be celebrated Friday, October 26, 2018 at 1:00 p.m. in the Immaculate Conception Catholic Church, 645 South Douglas Avenue, Three Rivers, with Father Anthony officiating.
Burial will be in Prospect Hills Cemetery, Cassopolis.
The family prefers contributions in Katherine's memory be made to Immaculate Conception Catholic Church, Daughters of Mary, 645 South Douglas Avenue, Three Rivers, Michigan 49093.
Arrangements have been entrusted to Connelly Chapel Wagner Family Funerals, Cassopolis.  Please share a memory or a message online.