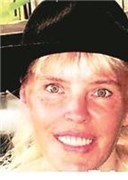 Lorie Ann (West) Yoder, age 49, of Colon, passed away Oct. 9, 2018, from injuries she received in an automobile accident in Three Rivers.
Lorie was born Oct. 31, 1968 in Indianapolis, a daughter of Jack L. and Loretta R. (Howe) West.
She had made her home in the Colon area all her life and had attended Colon schools.
Lorie had worked several years at Colmer Company in Colon.
She participated several years in Sturgis Toy Run.
She is survived by two sons, Leonard Haughn of Colon and David Broker and family of Sturgis; her mother, Loretta R. West of Colon; a sister, Lorrain (Paul) Harter of Kalamazoo; and a brother, Paul L. West of Pittsburgh.
Lorie was preceded in death by her father, Jack L. West.
A memorial service celebrating the life of Lorie Ann Yoder will be at 2 p.m. Saturday, Oct. 27, 2018, at Schipper Funeral Home in Colon, with the Rev. David J. Farrell officiating. If desired, memorials may be made in memory of Lorie to the family.