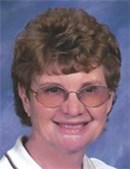 Mrs. Mary E. "Mary Ellen" Enfield, age 80, of White Pigeon, went home to be with the Lord at 1:32 a.m. Monday, Oct. 15, 2018, following a sudden illness at Elkhart General Hospital.
She was born Oct. 21, 1937, in Winchester, Ky. to the late Arnold and Ethel (Puckett) Smyth and later married Richard L. "Dick" Enfield on Nov. 15, 1958, in Washington, D.C. He survives after nearly 60 wonderful years together.
Surviving are sons Jack (Shannon), Rich (Jessica), Chris (Mary Meyer) and Pete (Cris Piquinela) Enfield; grandchildren Elizabeth, Jonathan, Nathan, Davis, Colton, Caitlin, Kelsey Enfield and Adam O'Toole; five great-grandchildren; and a brother William (Tonita) Smyth. Preceding her in death are sisters Brenda Arnold and Rose Lee Anderson.
Services will be held at 3 p.m. Friday, Oct. 19, 2018, at First Baptist Church of Elkhart, 53953 CR 17, Bristol, Ind., with visitation starting at 1 p.m. Pastor Phil Byars will officiate and burial will follow at Adamsville Cemetery in Michigan. Billings Funeral Home & Cremation Services has been assisting the family with arrangements.
Mary Ellen amassed more than 30 years of civil service, including working at the Pentagon in Washington, for the Army Corps of Engineers in New Orleans and the Social Security Administration in Elkhart. She attended First Baptist Church of Elkhart and was a member of White Pigeon American Post #138 Ladies Auxiliary and the Popcorn Guild at Sturgis Hospital. She was active in the Lunch & Lit Club and the Alba Columba Club in White Pigeon and enjoyed helping her husband, Dick, with Lions Club functions. She was a tremendous cook, gardener, an avid reader and prolific quilt-maker who loved to lavish her friends and family with gifted, finished quilts.
Memorial donations may be given to the Salvation Army Hurricane Michael Fund.