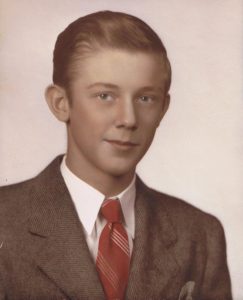 Maurice "Mauri" Webb, age 90, Centreville, passed away October 29, 2018 at Three Rivers Health. He was born in Indianapolis on July 24, 1928, a son of Josiah and Elizabeth (Doerband) Webb. Mauri graduated from Mendon High School in 1946 and later attended Glen Oaks Community College. He was employed as a machinist at Continental Can for 30+ years until retiring at the age of 62.
Mauri was previously married to Barbara Male; they were later divorced. In 1957, he married Hazel Kramb; she preceded him in death in 1991. In 1996, he married Geraldine Henry; she preceded him in death in 2011.
Mauri loved racing, especially the Indianapolis 500 and NASCAR. He was previously a member of the Three Rivers Airport Board, enjoyed going bowling, and attended Life Church Centreville.
Surviving are his children Gordon (Debbie) Webb, Springport; Bret Webb, WI; Scott Webb, Three Rivers; Kurt (Kris) Webb, Three Rivers; and Randi Webb, Three Rivers; step-children Ellen (Carl) Hull, Centreville and Stan Clark, Three Rivers; and many grandchildren, great grandchildren, and great-great grandchildren.
He was preceded in death by his parents, wives Barbara, Hazel, and Geraldine, and siblings Betty Stader and Donald Webb.
Cremation has taken place.  Relatives and friends will be received at Eley Funeral Home, Centreville, on November 10 from 10 to 11, with a religious service following at 11:00. Pastor Clint Zehr, Life Church Centreville, will officiate.  Memorial contributions can be given to Life Church Centreville.  Online condolences may be left for the family at www.eleyfuneralhomes.com.