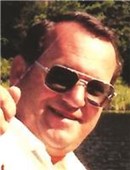 Maynard Max Gray, age 84, of Sturgis, was surrounded by his family Thursday evening, Oct. 18, 2018, when he passed away at Sturgis Hospital.
He was born July 17, 1934, in LaGrange, a son of the late Myrten and Beulah (Johnson) Gray.
Maynard resided in the LaGrange County, and Sturgis area most of his life. Twenty years living in LaGrange County was at the home he loved on Dallas Lake. He also lived for a short time in Fort Wayne while gaining his apprenticeship in tool-and-die making with International Harvester Company and in Niles, when he accepted a job with Bendix Corporation.
On May 30, 1992, he married Dixie Nidiffer in Elkhart.
Maynard was a tool-and-die maker by trade and retired from Machine-Rite Products in LaGrange, following 18 years of dedicated employment. At the time of his retirement, he held the position of supervisor. Following his retirement, he owned and operated Gray's Commercial Lawn Care Service for several years, a job he considered more as a hobby than work.
Maynard was an avid fisherman and especially loved ice fishing. He also enjoyed going to auctions.
He is survived by his loving and dedicated wife of 26 years, Dixie; three daughters, Kathi (John) Carney, Kelly Hostetler and Kim (Steve) MacGregor, all of Sturgis,; two sons, Kevin (Deb) Gray of Sturgis and Kris Gray of Fort Wayne; 11 grandchildren; 18 great-grandchildren; a stepdaughter, Brenda (Jeff) Sanger of Oshkosh, Wis.; two stepsons, Scott (Maggie) Sanders of Apollo Beach, Fla., and Gary (Lisa) Sanders of Stevensville; six step-grandchildren; a sister, Sharon (Jim) Pieratt of LaGrange, Ind.; and many nieces and nephews.
He was preceded in death by his parents; three sisters, Lois Henson, Geraldyne Walker and Donna Richmond; four brothers, Walter "Pete" Gray, Myrten "Bub" Gray and Lester Gray; and an infant brother.
The family will receive friends from 2 to 6 p.m. Sunday and 10 to 11 a.m. Monday at Rosenberg Chapel of Hackman Family Funeral Homes, 807 E. Chicago Road, Sturgis.
Funeral services celebrating the life of Maynard M. Gray will begin at 11 a.m. Monday at the funeral home. The Rev. Jeanne Garza of First United Methodist Church of Sturgis will officiate. A graveside committal will follow the service at Oak Lawn Cemetery in Sturgis.
The family suggests those wishing to make a memorial donation in Mr. Gray's memory consider St. Joseph County United Way, P.O. Box 577, Centreville, MI 49032; Alzheimer's Association, 350 E. Michigan Ave., Suite 20, Kalamazoo, MI 49007; or the charity of one's choice .
His obituary is also at ­www.hackmanfamilyfuneralhomes.com, where personal messages of support may be left for the family.