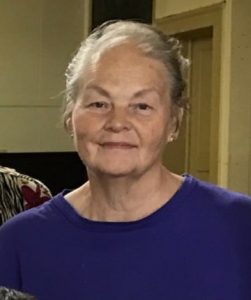 Berneda Onnaleah Cole, age 74, 0f Three Rivers, passed away suddenly on Monday, Nov. 19th, 2018 at Borgess Medical Center.  She was born on Feb. 15, 1944 in Kalamazoo, the daughter of the late Paul and Fannie (Lewis) Pirtle.
Berneda and her family have peace in their hearts knowing that Berneda lived her life with compassion, courage, faith, and a great love for animals, people, and her friends at Dairy Queen.  She was an avid member of Riverside Church and truly loved all those she came into contact with.
Mrs. Cole was preceded in death by her parents, her husband, Craig Donald Cole, and one daughter, Cynthia Cole.
She leaves to cherish her loving memory, two sons, Timothy Paul (Christine) Cole, of Elkhart, and Craig Donald (Tracey) Cole II, of Three Rivers; seven grandchildren, Sarah Ernsberger and Mason Cole, Colin Cole, Alicia Burrows, Jonathan Recod, Siriana and Rylea Summey; three great-grandchildren, Jasper, Oliver and Asher, as well as numerous friends.
A celebration of Berneda's life will be held at 2:00 p.m. on Tuesday, Nov. 27th at the Riverside Church, 207 E. Michigan Ave Three Rivers, MI 49093 with Pastor Jamey Smith officiating.
Memorial donations may be made to Animal Rescue Fund (A.R.F.) or the Three Rivers Health Hospice.  Envelopes available at the Hohner Funeral Home and church in care of her arrangements.