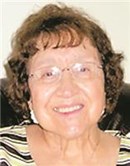 Betty Jane Kennedy, age 94, of Grand Haven, passed away Monday, Nov. 12, 2018, at Grand Pines Assisted Living.
She was born March 19, 1924, in Sturgis, to the late Guy and Lucy (Deluca) Bonfiglio II.
Betty married Earl Maurice Kennedy in 1946 in Sturgis. He preceded her in death in 1991, after 44 years of marriage.
Betty graduated from Nazareth Academy, then studied music at Albion College. During her youth, she worked at Palace Café and later The Cameo, both family-operated restaurants. Betty was a longtime member of Holy Angels Catholic Church in Sturgis, where her beautiful voice was heard for all when she sang at funerals and weddings. She was an avid reader and followed politics closely. Her greatest joy was the time spent with family.
Betty will be lovingly remembered and missed by her daughter, Jean (William Feenstra) Kennedy of Grand Haven; sons Mark (Harriet) Kennedy of Belton, Texas, Christopher (Sandy) Kennedy of Canton, Ill., Kevin (Shirley) Kennedy of Sugar Grove, Ill., Patrick (Mary) Kennedy of St. Charles, Ill., David (Sharon) Kennedy of Indianapolis, and Ralph (Debbie) Kennedy of Aurora, Colo.; 18 grandchildren; nine great-grandchildren; a brother-in-law, William Johnson; a sister-in-law, Therese Bonfiglio; and many nieces, nephews and extended family.
She was preceded in death by a brother, Ralph Bonfiglio; and sisters Teresa Johnson and Donna Bonfiglio.
A funeral Mass for Betty will be at 11 a.m. Tuesday, Dec. 4, 2018, at Holy Angels Catholic Church in Sturgis, with visitation one hour prior to the service at the church. Interment will be at Oak Lawn Cemetery in Sturgis.
Memorial contributions may be given to Markland Hyde Center, 1S450 Wyatt Drive, Geneva, IL 60134. Visit www.klaassenfuneralhome.com to sign Betty's online guestbook.