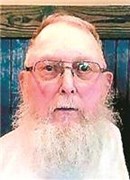 Robert H. Smith, age 80, of Sturgis, passed away Thursday afternoon, Nov. 15, 2018, at the home of his son in Colon.
He was born Feb. 22, 1938, in Bronson, a son of the late John and Ellen (Woodcox) Smith.
Bob resided his entire life in the Sturgis area and was a graduate of Brighton High School in Brighton, Ind., with the class of 1956.
On June 14, 1958, he married Audrey M. Smith at Sturgis Wesleyan Church in Sturgis. She died Aug. 23, 2013.
Bob retired from Grumman Olson in Sturgis following 28 years of dedicated employment and also retired from the National Guard after 29 years of service, earning the rank of E6. Bob loved farming and had worked for Benne Farms in Sturgis for more than 40 years.
He was a member of Northeast Indiana Steam and Gas Association in LaGrange, Ind., and Neuman-Wenzel Post #73 American Legion. He was a collector of knives, jewelry and Ford and Ferguson antique tractors. He enjoyed attending gun and knife shows, going on golf cart rides with his daughter-in-law, working on jigsaw and crossword puzzles and cooking and watching cooking shows. He had a true love for dogs and always looked forward to his morning meeting with his buddies at Savory Restaurant in Sturgis.
He is survived by two sons, Douglas Smith of Westville, Ind., and Todd (Donna) Smith of Colon; four grandchildren, Douglas (Fawn) Smith II, Zachary Smith, Skylar Smith and Brandie (Cody) Eldridge; 10 great-grandchildren; a sister, Jean (Steve) Mock of Sturgis; two brothers, Richard (Berd) Smith of LaGrange, Ind., and Roscoe Smith; and several nieces and nephews.
He was preceded in death by his parents; his wife; and a sister, Joan Smith.
The family will receive friends from 2 to 4 p.m. and 6 to 8 p.m. Sunday at Hackman Chapel of Hackman Family Funeral Homes, 114 S. Nottawa St., Sturgis. A graveside service and burial will take place at 4 p.m. Monday at Burr Oak Cemetery in Burr Oak. Pastor Barry Sommerfield will officiate. Full military honors will be conferred by Capt. John J. Kelley Post #1355 VFW and the U.S. Army Honor Guard.
The family suggests those wishing to make a memorial donation in Mr. Smith's memory consider American Heart Association , 3816 Paysphere Circle, Chicago, IL 60674.
His obituary is also at www.hackmanfamilyfuneralhomes.com, where personal messages of support may be left for the family.