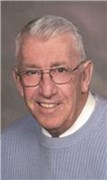 Donald A. Maystead, age 78, of Sturgis, passed away Saturday afternoon, Nov. 17, 2018, surrounded by his family at Grace Health Care of Three Rivers.
He was born March 23, 1940, in Burr Oak, son of the late Earl and Edna (Lankanau) Maystead.
Don was a lifelong resident of the Burr Oak and Sturgis area and a graduate of Burr Oak High School with the class of 1958.
On Jan. 28, 1962, he married Dorothy Grate in Sturgis.
Don retired in 1992 from the United States Postal Service following 28 years of dedicated employment as a mail carrier.
He was proud to have served his country in the U.S. Army from 1959-1965 earning the rank of SP4.
Don was a Life Member of Captain John J. Kelley Post #1355 VFW and a member of Colon Post #454 Sons of the American Legion and attended the First Baptist Church in Sturgis. He enjoyed playing cards, fishing, playing golf, feeding the birds, mushroom hunting and loved tinkering in his barn and time spent with family especially his grandchildren.
He is survived by his dedicated wife of 56 years: Dorothy; two sons: Dennis (Laurie) Maystead and Dean (Barb) Maystead both of Sturgis; five grandchildren: Derek (Amy Eichler) Maystead of Sturgis, Kelsey (Ben) Kulpinski of Sturgis, Breann Maystead of Milwaukee, Wisconsin, Devin Maystead of Sturgis and Danielle (Brian Barrons) Maystead of Sturgis; two great granddaughters: Carsyn Maystead and Makinley Maystead; Two brothers: Richard (Thuma) Maystead of Florida and Ronald (Linda) Maystead of Sturgis; and several nieces and nephews.
He was preceded in death by his parents, four sisters: Janice Bucknell, Helen Teadt, Betty Davis and Mary Meyer and one brother: Robert Maystead.
The family will receive friends from 4 to 8 p.m. Friday at the Rosenberg Chapel of Hackman Family Funeral Homes, 807 E. Chicago Rd., Sturgis, MI 49091, 269-651-3284. Funeral services celebrating the life of Donald A. Maystead will be held at 11 a.m. Saturday. The Rev. James Pearson of the First Baptist Church in Sturgis will officiate. A graveside committal will follow the service at Oak Lawn Cemetery in Sturgis. Full military honors will be conferred by Captain John J. Kelley Post #1355 VFW and the U.S. Army Honor Guard.
The family suggests those wishing to make a memorial donation in Mr. Maystead's memory consider the charity of one's own choice.
The obituary is also at www.hackmanfamilyfuneralhomes.com where personal messages of support may be left for the family.