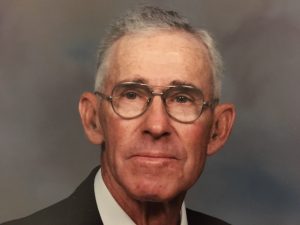 Ernest A. Willman, age 96, of Constantine, passed away on Friday, November 16, 2018 at home.  Ernie was born December 22, 1921 in Chesterton, IN, son of Ernest and Emma (Milbrandt) Willman.  He attended school in Three Rivers until 8th grade, when he started farming on the family farm in 1931.  Ernie was a lifelong farmer, purchasing his first farm in 1936 at the age of 15.
On February 24, 1952, he married Alice "Mildred" Reber; she preceded him in death May 25, 1990.  On March 1, 1992, he married Fern (Reardon) Roberts in Constantine; she preceded him in death March 3, 1994.
Ernie and Mildred adopted Earl Willman.  Earl served in the U.S. Navy for four years; he preceded Ernie and Mildred in death on February 19, 1994.
Ernie enjoyed racing at fairs in Centreville, Jackson, Allegan, Hoosier Park, Hawthorne Park, Toledo, and Lake Odessa.  He was a 4-H Club Leader, 40-year member of St. Joseph County Farm Bureau, and served for 32 years on the Constantine Township Board.  He was also a member of Constantine Messiah Lutheran Church and Michigan Harness Horsemen's Association.
Surviving are granddaughter Meghan (Shawn) Mears, Kalamazoo, great granddaughter Zoey Mears, grandson Earl Willman, Jr., Three Rivers, sister Helen Noe, Constantine, long time friend Beverly Jean Morgan, Sturgis, and many nieces and nephews.
He was preceded in death by his parents, wives, son Earl Willman, Sr., brother Emil Willman, and sisters Emma Hollopeter, Elsie Yoder, and Louise Hotovy.
Relatives and friends will be received Monday, from 3 to 7 at Eley Funeral Home, Constantine.  Religious services will be held Tuesday, at 1PM at Constantine Messiah Lutheran Church, Pastor Chris Laughlin officiating.  Interment will be in Constantine Cemetery.  Memorial contributions can be directed to Michigan Harness Horsemen's, Heartland Hospice, or Messiah Lutheran Church. Online condolences can be left for the family at www.eleyfuneralhomes.com.