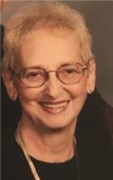 Evelyn May Blucker, age 78, of Sturgis, passed away peacefully Saturday afternoon, Nov. 17, 2018, at Thurston Woods Village in Sturgis.
She was born Aug. 26, 1940, in Cassopolis, daughter of the late Menno and Nora (Weldy) Richer.
On Feb. 2, 1958, she married John Blucker in Goshen.
Evelyn was employed as a recess teacher at Congress School in Sturgis and also a consultant for Home Interiors and Gifts for 25 years.
She was a member of the Locust Grove Mennonite Church in Burr Oak. Evelyn loved to shop and be around her family. She had a love for Amigo Park and visiting with the campers.
She is survived by her husband of 60 years: John; son: Greg (Brenda) Blucker of Sturgis; daughter: Sheila (Caz) Moore of Sturgis; three grandchildren: Stefanie (Charlie) Patrick of Sturgis, Hilary (Daniel) Roberts of Middlebury, and Chelsea (Scott) Bailey of Howe; six great-grandchildren: Taner, Chloe, Roselyn, Thomas, Theodore and Lydia; one sister: Norma (Dick) Green of Goshen, Ind.; and several nieces and nephews.
She was preceded in death by her parents; two sisters: Mabel Shetron and Catherine Whitmyer and five brothers: Silas Richer, Virgil Richer, Charles Richer, Lowell Richer and Joseph Richer.
The family will receive friends from 2 to 4 and 6 to 8 p.m. Tuesday at the Locust Grove Mennonite Church, 29525 Findley Rd, Burr Oak, where services will be held at 11 a.m. Wednesday. Pastor Bill Beck will officiate. In accordance with her wishes cremation will follow the services.
The Hackman Chapel of Hackman Family Funeral Homes, 114 S. Nottawa St., Sturgis, MI 49091, 269-651-2331 is entrusted with the arrangements.
The family suggests those wishing to make a memorial donation in Evelyn's name to please consider Amigo Park, 27091 N Shore Dr., Sturgis, MI 49091 or Thurston Woods Village, 307 N. Franks Ave., Sturgis, MI 49091. Envelopes will be available at the church.
The obituary is also at www.hackmanfamilyfuneralhomes.com where personal messages of support may be left for the family.