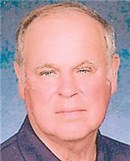 Jerry Keyser, age 79, of Sturgis, passed away unexpectedly Tuesday, Nov. 27, 2018, at Sturgis Hospital.
He was born Nov. 25, 1939, in North Liberty, Ind., a son of the late Kenneth A. and Sarah Elizabeth (Robinson) Keyser. Jerry moved to Sturgis in 1954, coming from Plymouth, Ind., and was a graduate of Sturgis High School with the class of 1958.
In high school, Jerry met the love of his life, Karen Sue Bowman, and they were married Nov. 26, 1960.
Jerry was a dedicated employee, working early in life for Coca-Cola Bottling Company as a driver and for Transogram Toy Company. He later worked as a steel rule and diemaker for Sturgis Carton for 20 years and retired from Auburn Packaging after 16 years of dedicated service.
Many fond memories were made with his family, including traveling out West, cruising the oceans and watching tournament basketball games. Jerry enjoyed winning at euchre and the blackjack table at the casino. He loved woodworking and helping his family with construction projects. He and Karen loved spending time with the grandchildren and he had a knack for showing up in pictures at every opportunity, otherwise known as "photo-bombing."
Jerry was a sports enthusiast. He loved to compete, often telling stories of when he was the quarterback and middle linebacker for Sturgis High School. He was an athlete, excelling in many sports, including basketball, track and fast-pitch softball for area leagues including the Orange Machine. He was passionate about Notre Dame football and Indiana basketball. In retirement, he enjoyed playing softball in multiple leagues while wintering in Florida. Jerry was a passionate spectator who could always be found in attendance at the school events of his children and grandchildren.
Jerry loved His Lord and Savior Jesus Christ and faithfully attended Holy Angels Catholic Church with his wife. He was a member of the Eagles and a very good friend.
He is survived by his loving wife of 58 years, Karen Keyser of Sturgis; three sons, Randy (Pam) Keyser of Middlebury, Ind., Mark Keyser of Mount Airy, Md., and Keith (Holly) Keyser of Sturgis; 12 grandchildren, David (Laura) Keyser of Lake Orion, Mitchel Keyser of Houston, Katie Keyser of Elkhart, Ind., Andrea, Rachel, John and Joe Keyser of Middlebury, Ind., Seairra Keyser of Silver Springs, Md., Morgayne Keyser of Orlando, Fla., Jackson Keyser of Mount Airy, Md., Alexandra (Daniel her fiancé) Keyser of Madison, Wis., and Kelsey (Austin) Nusbaum of Cincinnati; a great-grandchild, Hank Keyser; three sisters, Lois LaMere of Pekin, Ill., Sheila (Tom) McBride of Elkhart and Mary LeCount of Elkhart; a brother, Wayne (Joyce) Keyser of Elkhart; two sisters-in-law, Patricia Sutton of Leesburg, Fla., and Sharon Bowman of Sturgis; a brother-in-law, Carl Marks of Sturgis; and many nieces and nephews.
He was preceded in death by his parents; his in-laws, Harold "Bud" and Vina Bowman; four sisters, Dollie "Dotty" Pike, Gloria Marks, Charlotte Craft and Bonnie Keyser; two brothers, William Keyser and Jimmy Keyser; four brothers-in-law, Bruce LaMere, Robert LeCount, Lloyd Pike Sr. and Gary Bowman; and a grandson, Matthew "Mighty Matt" Keyser.
The family will receive friends from 2 to 6 p.m. Sunday, Dec. 2, at Hackman Chapel of Hackman Family Funeral Homes, 114 S. Nottawa St., Sturgis. A funeral service celebrating the life of Jerry Keyser will be held at 11 a.m. Monday, Dec. 3, at Holy Angels Catholic Church, 402 S. Nottawa St., Sturgis. The Rev. Evelio Ramirez will officiate. A graveside committal will follow the services at Oak Lawn Cemetery in Sturgis.
The family suggests those wishing to make a memorial donation in Mr. Keyser's memory consider Sturgis Foundation/Mighty Matt Keyser Fund, 310 N. Franks Ave., Sturgis, MI 49091. His obituary is also at www.hackmanfuneralhomes.com where personal messages of support may be left for the family.