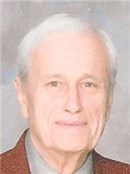 James D. Weiss Sr., age 83, of Sturgis, passed away peacefully of natural causes Tuesday morning, November 13, 2018, at Borgess Medical Center in Kalamazoo.
He was born Aug. 23, 1935, in Sturgis, a son of the late Earl and Elizabeth (Grimes) Weiss.
Jim resided in the Sturgis area most of his life.
In 1953, Jim graduated from Howe Military School in Howe, where his father served as the school's quartermaster. His mother washed laundry for the school in order to send their son to Howe. Jim served on the school's board of trustees and alumni association for decades.
Jim went on to get his master's degree in finance and was a professor at both Wayne State University and Indiana University. He was an avid stock market trader, philanthropist, businessman, developer and adventurer.
He found great joy in helping others; a natural mentor. Jim always found time to listen to someone in need and often was open to assist however necessary, especially cadets at Howe Military School.
He enjoyed traveling, his countless pets, playing rummy, fishing, reminiscing with Howe alumni and was an fan of the Indiana University basketball team. Jim will forever be remembered for his wonderful stories, his generosity and support of others.
He is survived by his wife, Nancy Phillips, and former wife, Patricia Perrin; children: his namesake, James Weiss Jr., Christianne Weiss, Carrie Weiss, Laurie Weiss, Hugh Rohrer, Nayan Rohrer, Eleni Mitropoulos and Dimitrios Mitropoulos; and grandchildren Kayla Cowles, Ceara Cowles, Janna Buck, Andrew Cardell, Taylor Griffin, Collin Griffin, Nicholas Weiss, Chelsey Gray, Amy Rohrer, Katy Rohrer, Ryan Rohrer, Tara Rohrer, Selma Aldridge, Sadie Aldridge, Seth Aldridge and Petra Mitropoulos.
He was preceded in death by his parents; a daughter, Ingrid Weiss Chawla, M.D.; and a son, Eddie Rohrer.
The family will receive friends at 11 a.m. Saturday, Nov. 17, on the campus of Howe Military School, 5755 Indiana 9, Howe, Ind. Funeral services begin at noon Saturday at St. James Chapel. Jim's dear friend Deacon George Douglass will officiate. A luncheon will immediately follow the service at the school's mess hall. Jim was very clear about wanting a celebration of his life, which will take place following the luncheon, beginning at 2 p.m. at Jim's HMA Alumni Club, Maplecrest Plaza, 1503 E Chicago Road, Sturgis. The family welcomes anyone who wishes to reminisce and share stories about Jim's life to join them in celebrating his memory.
Hackman Chapel of Hackman Family Funeral Homes, 114 S. Nottawa St., Sturgis, is entrusted with arrangements.
Per Jim's pre-arranged wishes, in lieu of flowers, memorial donations may be directed to Howe Military School, 5755 Indiana 9, Howe, IN 46746; or James D. Weiss Sr. Foundation for wild and domestic animals in need, 1509 E. Chicago Road, Sturgis, MI 49091.
His obituary also is available at www.hackmanfamilyfuneralhomes.com, where personal messages of support may be left for the family.