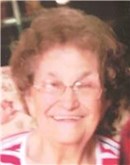 Louise F. Clipfell, age 84, of Colon, passed away Monday, Nov. 5, 2018, at her home, surrounded by her family.
Louise was born March 4, 1934, in Leonidas Township, a daughter of the late Carl and Georgia (Fitzgerald) Drumhiller Sr.
Louise had lived in the Colon area all her life and had attended Colon schools.
On July 14, 1951, she married Philip G. Clipfell in Athens. He preceded her in death Dec. 13, 2013.
Louise had worked at several local businesses in Colon. She was a member of Colon Grange, a life member of Three Rivers Eagles and had been a member of the former Colon Eastern Star.
She loved to cook and was well-known for her famous potato salad and enjoyed going to the casino.
She was preceded in death by a daughter, Jody Clipfell; three grandchildren, Philip Clipfell, Samantha Proet and Betsy Clipfell; great-great-granddaughter Dolly Smith; a brother, Carl Junior Drumhiller; an infant sister, Ethel Drumhiller; a half-sister, Mary Alice Harris; and three half-brothers, Kenneth Brownell, Charles and Ralph Drumhiller.
The family will receive relatives and friends from 2 to 4 p.m. and 6 to 8 p.m. Wednesday at Schipper Funeral Home in Colon. A funeral service celebrating the life of Louise F. Clipfell will be at 11 a.m. Thursday, Nov. 8, 2018, at the funeral home, with the Rev. David J. Farrell officiating. Burial will follow at Lakeside Cemetery in Colon.
If desired, memorials may be made in memory of Louise to the Colon Grange. Envelopes are available at the funeral home.