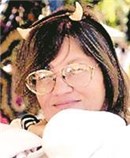 Melinda R. Studeman, age 53, of Lecanto, Fla., and former resident of Sturgis, passed away Friday morning, Oct. 26, 2018, at VITAS Inpatient Hospice Unit in Lecanto.
She was born Dec. 22, 1964, in Sturgis, a daughter of Kenneth and Joyce (Balk) Studeman.
Melinda resided in Florida since 2005. Prior to moving to Florida, she lived in Illinois and her early life was spent in Sturgis, where she was a graduate of Sturgis High School with the class of 1983. She continued her education in the field of psychology at Judson College in Elgin, Ill.
Most of Melinda's working life was involved in mental health. She had been employed by Elgin Mental Health Center, Ann Kiley Mental Health Center and worked as a personal care assistant. She also worked as a secretary at Abbott Laboratories in Illinois, security guard at Abbott Laboratories in Sturgis, she was a taxi cab driver, worked as a waitress and bartender and for one year traveled throughout the United States with a renaissance festival company and continued to participate in local festivals for several years.
She was a past member of Capt. John J. Kelley Post #1355 VFW Auxiliary and Women of the MooseChapter #613, where many will remember her calling bingo numbers and she enjoyed geocaching and was a true lover of cats.
She is survived by her parents, Joyce (David Hartley) Munn of Lecanto, Fla., and Kenneth (Kathaleen) Studeman of Sturgis; a brother, Jason (Wilma) Studeman of Sturgis; a half-sister, Anna (Kyle) Hongisto of Gainesville, Fla.; two stepbrothers, David (Tammy) Pagels and Doug (Christine) Pagels, both of Sturgis; a stepsister, Martha (Don) Cherrington of Sturgis; several nieces and nephews; and her two cats, Mommy and Storm.
She was preceded in death by her grandparents, Leo and Mary Balk and Lawrence and Edith Studeman; and a nephew, Tyler Studeman.
The family will receive friends from 3 to 6 p.m. Friday at Hackman Chapel of Hackman Family Funeral Homes, 114 S. Nottawa St., Sturgis.
Funeral services celebrating the life of Melinda R. Studeman will be held at 2 p.m. Saturday at First Baptist Church of Sturgis. The Rev. Jim Pearson will officiate. Entombment will follow the service at the Sturgis Memorial Gardens Mausoleum.
The family suggests those wishing to make a memorial donation in Melinda's memory consider Hospice of Citrus County, 10 Regina Blvd., Beverly Hills, FL 34465.
Her obituary is also at www.hackmanfamilyfuneralhomes.com, where personal messages of support may be left for the family.