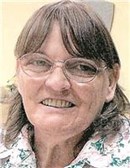 Shirley Louise Lipscomb, age 65, of Three Rivers, passed away Wednesday evening, Nov. 7, 2018, at her home.
She was born July 12, 1953, in Wellston, Ohio, a daughter of the late Rosa Alice Wyatt.
Shirley had resided in Three Rivers for the past two years, coming from Centreville, and she also lived in Nottawa for many years.
On Aug. 16, 1975, she married Jerry Len Lipscomb in Hillsdale.
Shirley was a dedicated homemaker, wife, mother and grandmother.
She was a member of Sturgis Church of Christ, Commission on Aging and enjoyed playing hand and foot, crocheting, knitting, going on boat rides and time spent outdoors.
She is survived by her husband, Jerry; a son, John Henry (Serena) Lipscomb; five grandchildren, Hailey, Ginny, Allie Kat, Chance and Bella; three brothers, Jim (Diana) Hurley, Chuck (Sally) Hurley and Donny Hurley; an aunt, Mary Leona Moden; and several nieces and nephews.
She was preceded by her parents; a son, Mark Lipscomb; two brothers, Ron and Tom Hurley; and a sister, Jean Ann Hurley.
The family will receive friends from 10a.m. to noon Monday at Rosenberg Chapel of Hackman Family Funeral Homes, 807 E. Chicago Road, Sturgis. Funeral services celebrating the life of Shirley L. Lipscomb will begin at noon Monday at the funeral home. The Rev. George Cleverley of the Sturgis Church of Christ will officiate. A graveside service and burial will take place at 3 p.m. Monday at Mosherville Cemetery in Mosherville.
Memorial donations would be appreciated to Hackman Family Funeral Homes, P.O. Box 9, Sturgis, MI 49091, to help with expenses.
Her obituary is also at www.hackmanfamilyfuneralhomes.com, where personal messages of support may be left for the family.