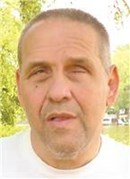 Millard Earl "Skeeter" Harvey Jr., age 63, of Mendon, passed away Tuesday, Nov. 20, 2018, at Bronson Methodist Hospital in Kalamazoo. A graveside service will be held at 1 p.m. Saturday, Dec. 1, 2018, at Lakeside Cemetery in Colon Township. A luncheon will follow at Bridges Community Church,27570 Marvin Road, Centreville. The family is being served by Lighthouse Funeral & Cremation in Union City.
Skeeter was born May 9, 1955, in Stuttgart, Germany. His father was in the military and the family returned to the U.S.A. in 1956. He lived in Missouri and Hawaii for several years before settling back in the Colon area. He resided there until moving to Mendon in 2015.
Skeeter enjoyed music, especially Glen Campbell, and even got to meet Glen in person several years ago. He loved real estate books and brochures. Skeeter traveled to many places with his family. He enjoyed Cedar Point and the fair. Skeeter loved his birthday, Christmas and the weather, and would often remark "How do you like the weather?" He participated in the spring and Christmas concert with Adapt in Sturgis. He also won several medals and ribbons with Special Olympics. He loved everyone and made everyone smile. Skeeter was pioneer for Pathfinder Center and worked at Adapt in Sturgis. For the past three years, he resided at Bohm's Adult Foster Care home in Mendon.
Skeeter was proceeded in death by his parents, Millard Earl Harvey Sr. and Alberta (Schrader) Harvey; a sister, Valerie (Harvey) Gregerich; and two brothers-in-law, David Bowens and Philip Gregerich.
Survivors include sisters Vicky Bowens of Sherwood, Vivian (Richard) Hatch of Centreville, Vanessa (Tony) David of Colon and Velvet (Tom) Stoll of Colon; and many nieces and nephews.
Memorial contributions may be directed to the family, which is planning to purchase a memorial bench to be in placed in the community park in Colon or at Adapt. Visit www.lighthousefuneral.comto share memories, pictures and videos with the family.