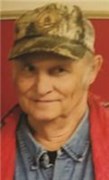 Steven L. Mobley, age 67, has passed away peacefully at his home with his daughters by his side on Monday, Nov. 19, 2018.
He was born on June 8, 1951, in LaGrange, to Virgil and Doris (Lytle) Mobley.
He worked at Sutton Tool for 17 years as a machinist working with tool and die. After that he did some excavating work and then retired. He loved to go deer hunting, mushroom hunting and fishing. He loved the outdoors.
Family and friends will remember him by visiting him at his picnic table underneath the shade tree at his home.
He was preceded in death by his parents and brother. Surviving are his daughters Tammy (Robert) Phillips of Sturgis, Dawn Mobley of Howe, and Tara (James) Bond of Sturgis. Also surviving are his three brothers, Ronald (Connie) Mobley of LaGrange, Greg (Debra) Mobley of Elberton Ga., and Jeff Mobley of LaGrange. Steven has seven grandchildren and one great-grandchildren.
Viewing will be from 2 to 4 p.m. and 6 to 8 p.m. Friday at Carney-Frost Funeral Home in LaGrange, Ind. The funeral service will be held on Saturday, Nov. 24, 2018 at 11 a.m. at Carney-Frost Funeral Home. Burial Service will be at the Ontario cemetery.
In lieu of flowers any donations can be directed to the family to help cover his medical expenses. Immediately following the burial service, the family is inviting everyone to celebrate the life of Steven Mobley at Howe Community building (the old fire station) in Howe, for a dinner.
Carney-Frost Funeral Home, LaGrange, is handling the handling arrangements.