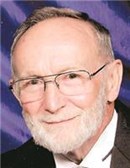 Virgil Leroy Lancaster, age 82, of Burr Oak, passed away Monday morning, Nov. 5, 2018, at Bronson Methodist Hospital in Kalamazoo.
He was born Nov. 12, 1935, in Burr Oak, a son of the late Kenneth B. and Maude A. (Schrader) Lancaster.
Virgil's early life was spent in Burr Oak until entering sixth grade, when the family moved to Mesa, Ariz. He graduated from high school in 1953 and resided in Tempe, Ariz., from 1957-1997. Virgil retired in 1997 from Jorgenson Steel in Phoenix, following 35 years of dedicated employment. At that time, he moved to Apache Junction, where he lived until 2003, when he returned to Burr Oak.
On Aug. 2, 2003, he married Retha (Harris) Hackett at First Baptist Church in Sturgis, by the Rev. James Bender. Virgil was saved by God's grace in 1959 and rededicated his life to God in 2003.
He was proud to have served his country in the U.S. Army from 1955-1957, earning the rank of SP3.
Virgil had a passion for travel and adventure. Some of his many adventures included hiking The Great Wall of China in 1999, a seven-day rafting trip through The Grand Canyon and hiking to the bottom of the Grand Canyon, traveling to Indian ruins and traveling throughout many of the national parks. He sang in choirs for over 50 years and enjoyed singing God's praises, reading, especially Western History and World War I and World War II history. He also enjoyed puzzles, playing cards and yard work and he loved spending time with family and friends.
He is survived by his wife, Retha; a sister, Lois Faust of LaGrange, Ind.; a stepson, Randy (Norma) Hackett of Evart; stepdaughters Vickie (Jim) Barfield of Sturgis, Debra Yee of Coldwater, Patricia (Lloyd) Littlefield of Wolverine Lake, Gloria (Ed) Szoyka of Elfrida, Ariz., and Beverly (Karl) Watkins of Mesa, Ariz.; 12 step-grandchildren; several step-great-grandchildren; and many nieces and nephews.
He was preceded in death by his parents; two step-grandchildren, Daniel Barfield and Kristen Littlefield; and a brother, Donald L. Lancaster.
In accordance with his wishes, cremation has taken place. A memorial graveside service and burial of the ashes will take place at 11 a.m. Saturday at Burr Oak Cemetery in Burr Oak. The Rev. David Porter of Colon Church of Christ will officiate. Full military honors will be conferred by Capt.John J. Kelley Post #1355 VFW and the U.S. Army Honor Guard.
Hackman Family Funeral Homes of Sturgis is entrusted with the arrangements.
The family suggests those wishing to make a memorial donation in Mr. Lancaster's memory consider Colon Church of Christ, 107 Broadway St., Colon, MI 49040.
His obituary is also at www.hackmanfamilyfuneralhomes.com, where personal messages of support may be left for the family.