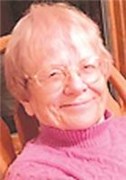 On Saturday, Dec. 1, 2018, Betty L. James (Brueck) passed away from cancer.
Betty was born in Nottawa to Lewis F. and Irene L. (Heinrich) Brueck and was the youngest of 10 children. Betty and her family grew up in the Centreville/Nottawa area.
While attending Centreville High School, she was elected president of her class. Upon graduating from Centreville High School in 1954, she attended Mercy Nursing School in Detroit. Betty was working as a nurse in Sturgis when she met her future and lifelong husband, Earl W. James.
Betty and Earl wed in August 1955 at Zion Lutheran Church in Kokomo, Ind.
Betty became a mother in 1956 when her first daughter, Deborah, was born. Betty and Earl went on to have two additional children, Diana and Mark.
While raising her three children, Betty continued her career by working at Seaway Hospital in Trenton, as a registered nurse.
As for her formal education, Betty obtained L.L.B. in 1960 from Blackstone School of Law. She continued with her education and received a Bachelor of Science from Madonna College in 1974, specializing in nursing. Betty became a lifelong Spartan when she graduated with a Masters of Arts from Michigan State University in 1977, majoring in continuing education.
In 1975, Betty moved to the Lansing area and took a position as a licensing officer/surveyor for Michigan Department of Consumer and Industry Services. Betty received numerous awards including being named the Surveyor of the Year for the state of Michigan.
Upon retirement from the state, Betty became an entrepreneur and created her own company, International Forensic Services, where she worked as a nursing consultant for numerous nursing care facilities in Michigan.
As for professional awards and organizations, in 2006, Betty was the first person from St. Joseph County inducted into 4-H Emerald Clover Society for her distinguished leadership and community service. Also, in 2010, Betty was named as a fellow in the American Academy of Forensics Sciences. Betty also was highly active with Sons of the American Revolution (German Society).
She was a devout Lutheran and a member of Trinity Lutheran Church in Lansing. She rarely missed church and she had a singing voice of an angel, which will be sorely missed.
Most importantly, she was an inspiration to everyone who came into contact with her and set the highest standard for being a Christian, wife, mother, leader and professional business woman.
Betty leaves behind a sister, Marge P. (Brueck) Gay, and a brother, Rolland E. Brueck, both of Sturgis; daughters Deborah A. (James) Dendtler of Virginia, Diana James of Bowling Green, Ky., and son Mark (Peggy) James of Sheridan, Ind. Additionally, Betty leaves behind her grandchildren, Dr. Katheryne Downes of Tampa, Fla., Leland (Lori) James of Greendale, Ind., Dr. Luke James of Westfield, Ind., and Allison Dendtler of Virginia. Finally, Betty leaves behind two great-grandchildren Maverick James and Capri James, both of Greendale, Ind.
Betty is preceded in death by her parents, Lewis F. Brueck and Irene L. (Heinrich) Brueck; and her brothers, Lloyd L., Maurice W., Robert L. and Kenneth Brueck. Also proceeding Betty were her sisters, Lorene (Brueck) Wittenberg and Doris R. (Brueck) Zielke; and her husband, Earl W. James.
There will be no funeral service, upon Betty's request. However, an interment service will be held at a later date and will take place at her final resting place at Sparta Cemetery in Kimmell, Ind.
In lieu of flowers, contributions may be made to Trinity Lutheran Church, 501 West Saginaw St., Lansing, MI 48933.
The family has entrusted arrangements to Peters & Murray Funeral Home in Grand Ledge.
Online: www.petersandmurrayfuneralhome.com.