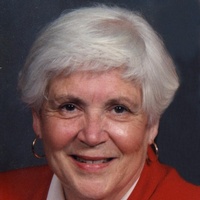 Carolyn B. (Bev) Casterline – loving wife, mother and grandmother passed on to be with her Heavenly Father on Wednesday, December 5, 2018 at the age of 94 surrounded by her loving family. Bev was born in Ferndale, Michgan on September 8, 1924.
She was married to Donald L. Casterline for 69 years who preceded her in death on October 3, 2015. The couple knew each other for more than 76 years. The pair truly left a legacy of love for their family and those that knew them well, to cherish and live by for years to come. Bev grew up most of her young life in the Lansing area and resided in Lexington, Michigan for 48 years.
Bev had a storied and lengthy career in education, and prior to that she was a Rosie the Riveter during World War II in Lansing. In fact, Bev's personal story of her stellar service to the United States of America appears in the Rosie the Riveter World War II Home Front National Historical Park Museum in Richmond, California. She also worked on the "Manhattan Project" writing deferments for veterans. Her dedication to her country never ceased.
While in education, she taught at both Peck and Brown City Public Schools in the thumb area of Michigan. She also served in administration and counseling roles over the span of her countless years of educational service. She was named "Outstanding Teacher of the Year" while at Peck High School.
Bev held a Bachelor of Arts Degree in Social Science from Michigan State University and later earned two separate Master's Degrees from Central Michigan University – one in Counseling and Guidance and yet another in Special Education. She also traveled on several trips with students to Europe under the American Institute For Foreign Studies (AIFS) program for classes and study abroad. She was always very proud of her education and passed that love of education on to her family and others. Many former students visited Bev throughout the decades thanking her for her direction and guidance. She was always invited to their class reunions.
Bev's kind soul and loving personality touched all those that knew her and she had an uncanny knack for bringing out the best in people. She was always encouraging others to realize their dreams and live life to the fullest. She was a great lady of faith and was always very active in her church over the years. Her awesome legacy lives on through her surviving family.
Bev is survived by two daughters, Linda Casterline and Carolyn Kearns both of Howell; two sons, James (Janice) of Greensboro, NC and David (Valerie) of Sturgis; one sister, Caryl Hicks of Cabot, AR. Grandmother of five; Jeff (Caryn), Jason (Cary), Jamie (Kristen), Matt (Abby) and Chris (Alexis) Casterline. Great-grandmother of Riley, Harrison, Lucas, Gavin, Mallory and Oliver Casterline; Sara (Don) Laitala, Chris (Martha) Hoyt, Rich (Linda) Hicks and Rob (Tracy) Hicks, as well as many great nieces and nephews.
A funeral celebration of life service will be held for Bev and her loving husband, Don on Sunday, December 9, 2018 at 2 pm (visitation beginning at 12:30 pm) at MacDonald's Funeral Home, Howell (517-546-2800). The family would like to thank Patti Lewis Care Home for their love, care and support. Contributions in Bev's honor can be directed to: Patti Lewis Care Home, 205 Francis Drive, Howell, MI 48843.