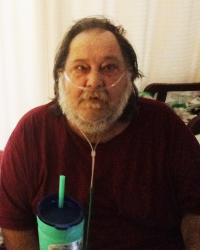 Charles John Underwood, age 59, of Leonidas, passed away on Wednesday, December 12, 2018. He was born on December 29, 1959 to Pearl (Underwood) Raney in Three Rivers.
Charles was a jack of all trades having worked in many fields throughout the course of his life. He loved spending time with friends and family.
Charles is preceded in his passing by his sister: Barbie Johnson and grandchild: Tegan Vanscoik
He leaves to cherish his loving memory his children: Charles J. "CJ" Underwood, James R. Underwood, Philip R. (Melinda) Vanscoik, and Elizabeth M. (Robert) Marker; step-daughter: Clarissa E. LaTour; brothers: David and Robert Johnson; ex-wives: Jackie Kafka and Rebecca J. Becker; seventeen grandchildren with one more on the way; and many nieces and nephews.
In accordance with Charles' wishes a public visitation will be held at Hohner Funeral Home of Three Rivers, on Tuesday, December 18, 2018 from 4:00 until 8:00 p.m. with cremation to follow.
Memorial donations made in Charles' memory may be made out to The Great Lakes Center for Autism Treatment and Research. Envelopes are available at Hohner Funeral Home. Online condolences may be left at www.hohnerfh.com