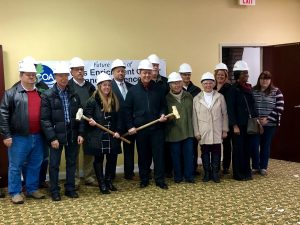 A significant moment in the redevelopment of the former Three Rivers Inn took place Monday afternoon.
The St. Joseph County Commission on Aging is oversaw a ceremonial groundbreaking at the West Broadway Street site.
Renamed the Rivers Enrichment Center and Residence, the building will be the new headquarters for the St. Joseph County Commission on Aging's Three Rivers site, a senior center and senior housing with more than 40 units.
Construction on the facility is scheduled to begin next week.
The ceremonial event took place in the community room, which was the hotel's former conference room. COA Executive Director Tim Stoll and elected officials from the city and county were a part of the fanfare.