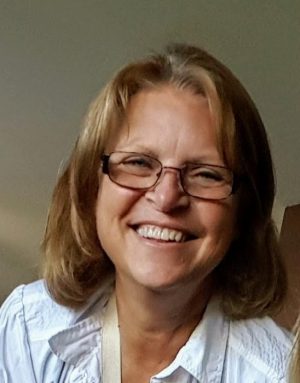 Deborah Jo Schabes, age 63, of Mendon died on Sunday, Dec. 2, 2018 at Rose Arbor Hospice surrounded by the four most important men in her life after battling breast cancer for the past ten years. She was born in Three Rivers on Feb. 25, 1955 the daughter of Joseph and Mary (Hampton) Zinsmaster. She graduated from Mendon High School in 1973 and attended Glen Oaks Community College. Deb was married to Mark E. Schabes on June 25, 1976 and they continued to make their home in Mendon. She had worked at the Haas Corporation and was a bus driver for Mendon Schools. Deb worked at both the Grubbs & Grubbs Law Office in Three Rivers and the Yancey Law Office in Mendon. She had also been employed at the St. Joseph County Courthouse and the Educational Community Credit Union.
Deb was a cheerleader at Mendon High School and later coached the cheerleading team. Deb and her family hosted foreign exchange students Gabby from Brazil and Renata of Bulgaria as they attended Mendon High School. She enjoyed anything having to do with water and the beach, such as boating and kayaking. She loved spending time with her family at the cabin in Ludington, and her recent trips to Hawaii and Arizona.
Deb is survived by her husband, Mark; three sons, John E. Schabes, Mark C. (Mary) Schabes; and Brett J. (Jessica Ganger) Schabes; grandchildren, Autumn Marie Schabes, Hailey Nicole Schabes, and Chase Allen Schabes; her father, Joseph (Marie) Zinsmaster; two brothers, Joseph C. (Cathy) Zinsmaster, and Chuck (Diane) Zinsmaster; sister, Angela Joy (Dave) Kemp; Nieces, nephews, and cousins. She was preceded in death by her mother, Mary (Ray) Cook.
The family will receive friends from 2 to 4 and 6 to 8 pm Friday at the Eickhoff Funeral Home in Mendon. Funeral services will be at 11:00 am Saturday, Dec. 8, 2018 at the funeral home with Rev. Bryan Balasa officiating. Burial will be in Mendon Cemetery. Memorials may be directed to either Rose Arbor Hospice, or to Cancer Treatment Centers of America. Condolences may be expressed to the family at www.eickhofffuneralhome.com