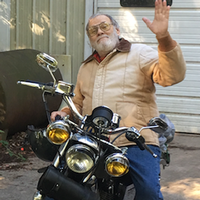 Frederick W. Wolf, age 68, of Constantine, passed away on Saturday, December 22, 2018 at his home. He was born June 18, 1950 in Sturgis a son of Fred and June (Geark) Wolf. Fred graduated from Sturgis public schools.
On August 29, 1981 he married Catherine Renee Cruce in Constantine.
He was employed for many years at Oak Products in Sturgis in the machine and tool & die shop. Fred also operated his farm. He enjoyed cars and motorcycles, especially hot rods.
Surviving are his wife C. Renee Wolf, Constantine, daughters Carrie (Matthew) Burns, Niles; Shuree (Chante) Wolf, San Diego, CA; son Frederick S. Wolf, Constantine; grandchildren Dannielle (Alex) Lopez, Matthew McMillan, Austin McMillan, Alicia McMillan, Brittany Werkmeister, Caitlyn Lavoto, Mariah Wolf, Braylon Cheesmond and Bryce Cheesmond, grandson in law Lusman Roblero, great grandchildren Hailey Lintz, Stephen Dunifin, Hunter Janes, Chloe McMillan, Brianna Kate McMillan and Tate McMillan, sister Linda (Roger) Janes of Sturgis, and several nieces, nephews and cousins.
Fred was preceded in death by his parents, granddaughters Ashley Roblero and Angel McMillan.
Relatives and friends will be received Wednesday from 4 to 7 pm at Eley Funeral Home in Constantine. Religious services will be held Thursday at 11 am at the funeral home with Pastor Tiffany Newsom, Constantine United Methodist Church officiating.
Interment will be in Oak Lawn Cemetery in Sturgis. Online messages may be left for the family at www.eleyfuneralhomes.com.