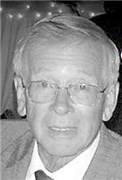 Rolland Eugene Brueck, age 84, of Sturgis, passed away Friday morning, Dec. 28, 2018, at his home, surrounded by his family, following a hard-fought battle with Parkinson's disease.
He was born June 21, 1934, in Nottawa, a son of the late Lewis F. and Irene (Heinrich) Brueck.
Gene resided in the Sturgis and Nottawa area most of his life and was a graduate of Centreville High School with the class of 1955. Following graduation, he enlisted in the U.S. Army, serving from 1955-1958, earning the rank of SP4. He was stationed in Stuttgart, Germany, and traveled throughout Europe.
On May 26, 1962, he married Janet C. Hopkins at Sturgis Wesleyan Church.
Gene retired from Canteen Corporation in St. Joseph following more than 30 years of dedicated employment. He also had sold Christmas trees for 30 years.
He was a kind and gentle man who enjoyed spending time at the old family tree farm and farm house on the river. He was a true outdoorsman enjoying hunting, fishing, camping, snowmobiling and mushroom-hunting in Northern Michigan and a talented woodworker who always looked forward to attending the St. Joseph County Grange Fair. For several years, he participated in league bowling. He was a fan of NASCAR, country music and was always ready to play a game of cards. Gene had many interests and hobbies, but his grandkids were the light of his world. He truly loved time spent with them and his entire family.
He is survived by his loving and dedicated wife of 56 years, Janet; a son, Kevin Eugene (Sherry) Brueck of Sturgis; a daughter, Kimberly (Jeff) Wilder of Sturgis; four grandchildren, Kevin Brueck, Amanda Brueck, Mackenzie Adams and Liam Adams; a great-granddaughter, Savannah Brueck; a sister, Marge P. (Brueck) Gay of Sturgis; and many nieces and nephews.
He was preceded in death by his parents; five brothers, Lloyd L., Maurice W., Robert L., Kenneth and Paul Brueck; and three sisters, Lorine Wittenberg, Doris Zielke and Betty James.
The family will receive friends from 4 to 6 p.m. Sunday at Rosenberg Chapel of Hackman Family Funeral Homes, 807 E. Chicago Road, Sturgis. Funeral services celebrating and honoring the life of Rolland Eugene Brueck will be held at 10:30 a.m. Monday at the funeral home. The Rev. Joshua Brueck of Sturgis Missionary Church will officiate. A graveside committal will follow the service at Oak Lawn Cemetery in Sturgis. Full military honors will be conferred by Capt. John J. Kelley Post #1355 VFW and the U.S. Army Honor Guard.
The family suggests those wishing to make a memorial donation in Mr. Brueck's memory consider Van Andel Institute Parkinson's Disease Research, 333 Bostwick Ave. NE, Grand Rapids, MI 49503.
His obituary is also at www.hackmanfamilyfuneralhomes.com, where personal messages of support may be left for the family.