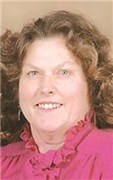 Iva Irene Firkins, age 79, of Three Rivers, passed away peacefully on Tuesday, Dec. 4, 2018.
She was born in Goshen, a daughter of Harry and Grace (Phillips) Kern.
She loved country music, gardening, fishing, embroidery and spending time with her family.
Iva is preceded in her passing by her parents; a son, Roger Firkins; a daughter, Toni Firkins; five brothers, William Miles, Wayne Miles, Willard Miles, Melvin Kern and Rondell Kern; and two sisters, Wilma (Nisley) Miles and Dorthy (Scott) Kern.
She leaves to cherish her loving memory her daughters, Diana Walker of Geneva, Ala., Bonnie (Lonnie) Belt of Popular Bluff, Mo., Kathleen Firkins of East St. Louis, Ill., and Wanda (Robert) Haley of Three Rivers; brothers Bob Kern of Idaho, Marlon Kern of White Pigeon and James Kern of Three Rivers; 18 grandchildren; and several great-grandchildren, nieces and nephews.
A public funeral service will take place Monday, Dec. 10, at Hohner Funeral Home in Three Rivers, with visitation from 10 a.m. until the time of service at 11 a.m. Pastor Bob Anderson will officiate. Interment will follow at Riverside Cemetery.
Memorial donations in Iva's memory may be made to Doris Day Animal League. Envelopes are available at Hohner Funeral Home. Online condolences may be left at www.hohnerfh.com.