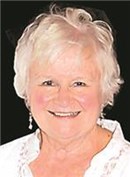 Jacquelyn Mary Cottin, age 89, of Sturgis, passed away Thursday, Dec. 6, 2018, at her home, surrounded by her family.
She was born Jan. 21, 1929, in Chicago, a daughter of the late Vernon and Elsie (Coleman) Marquardt.
Jackie had resided in Sturgis since 1975 after moving from her hometown of Chicago. She spent her winters as a "snowbird" in Indialantic, Fla.
On April 24, 1954, she married Daniel B. Cottin in Chicago. He died May 4, 1984.
On Feb. 27, 1975, she and her husband founded Cottin's Hardware in Sturgis. Jackie worked alongside her husband and family in the store for many years and was genuinely interested in her customers and their families. She loved talking to people and had a wonderful sense of humor. Jackie was a dedicated and loving mother, grandmother and great-grandmother.
She was an active member of Holy Name of Jesus Catholic Church in Indialantic, Fla.
Jackie was a friend to all and truly loved time spent with her family, especially her grandchildren and great-grandchildren.
She is survived by a daughter, Cathleen (Frank) Finnerman of Sturgis; four sons, Daniel (Julie) Cottin of Sturgis, Robert (Beth) Cottin of Sturgis, Thomas (Linda) Cottin of Lawrence, Kan., and James Cottin of Sturgis; 14 grandchildren: Christine, Gina, Kimmy, Colleen, Cole, Joe, Jackie, Mick, Kevin, Danny, Nick, Tommy, Katie and Angie; and 12 great-grandchildren.
She was preceded in death by her parents; her husband; and a granddaughter, Lauren Finnerman.
The family will receive friends from 4 to 7 p.m. Tuesday at Rosenberg Chapel of Hackman Family Funeral Homes, 807 E. Chicago Road, Sturgis. A private family graveside committal will take place at Oak Lawn Cemetery in Sturgis.
In lieu of flowers, the family suggests memorial donations be directed to Sturgis Area Community Foundation, 310 N. Franks Ave., Sturgis, MI 49091.
Her obituary is also at www.hackmanfamilyfuneralhomes.com, where personal messages of support may be left for the family.