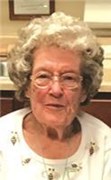 Jane Marie Lints, age 94, of Mendon, died Sunday, December 16, 2018 at Bowman Place in Three Rivers. She was born in Centreville, on July 11, 1924 the daughter of the late Harry and Blanche (Worthington) Yearling. Jane graduated from Centreville High School in 1942 and worked briefly at Denton Mills and the Abstract Office. She was married to Clarence W. Lints on Dec. 21, 1944 in Mendon. They resided briefly in Leonidas and Burr Oak before settling in Mendon in 1947. Jane was a farm wife and homemaker who also worked for the Haas Corporation and was a Bus Driver for Mendon Schools. She attended the West Mendon United Methodist Church, and was a member and past president of the Mendon Women's Club.
Jane is survived by two daughters, Kathryn Osborn of Allen and Ann Beaver of Galesburg;
She was loved by many grandchildren and great-grandchildren; twin sister, Jean Avery of Sturgis; and several nieces and nephews. She was preceded in death by her husband, Clarence; son, Jim Lints; brothers, John Yearling and Donald Tessman; sister, Charlene Lytle; son in law, Wally Beaver.
In keeping with her wishes, cremation has been conducted. The family will receive friends from 1 to 2 pm Thursday at the Eickhoff Funeral Home in Mendon. Memorial services will begin at 2:00 pm Thursday, Dec. 20, 2018 at the funeral home in Mendon with Ray Doyle officiating. Interment of cremains will take place later in Leonidas Cemetery. It is suggested that memorial be directed to the Mendon Women's Club. Condolences may be expressed to the family online at www.eickhofffuneralhome.com