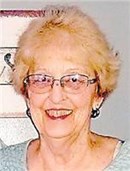 Janet L. Grove, age 78, of Sturgis, passed away Monday, Dec. 24, 2018, at Borgess Medical Center in Kalamazoo.
She was born Dec. 30, 1939, in Jackson, a daughter of the late Kenneth and Pauline (Brooks) Walling.
Janet had resided in the Sturgis area since 1987, coming from Coldwater.
She was first married to William Leon Spade. On Aug. 22, 1987, she married DeWitt L. Grove at Pretty Prairie Church in Howe, Ind.
Janet retired in 1986 from Coldwater Regional Center following 21 years of dedicated employment as a supervisor and a dental assistant.
Janet was a member of a Bible study group and she enjoyed basket weaving, reading and pencil coloring. When she was younger, she worked with her father in building the family home. She loved the years working side by side with Dewitt on the farm and time spent with her family, especially her grandchildren.
She is survived by her husband, Dewitt; a daughter, Diane (Ron Daglow) Beckman of Quincy; two sons, Mark W. Spade of Goshen, Ind., and Tim Spade Kalamazoo; three grandchildren, Kelley Green, Brittany Hartman and Zachary Spade; two great-grandchildren, Eric Green and Brook Hartman; three stepdaughters, Brenda Bennett of Bronson, Lori (David) Winchell of Sturgis and Amy (Duane) Butcher of Sturgis; nine step-grandchildren, Laura Hoover, David Sessions, Katie (Gary) Edgington, David Butcher, Grace Winchell, Brandylynn Bennett, Ben Winchell, Coty Bennett and LeeAnn Winchell; four step-great-grandchildren, Halle Edgington, Reese Edgington, Zayden Butcher and Zayleigh Butcher; two sisters, Barbara Runduist of North Carolina and Kay Hoffman of Nebraska; and several nieces and nephews.
She was preceded in death by her parents; sons-in-law Keith Beckman, Rob Sessions and Warren Bennett; and a grandson, Paul Sessions.
The family will receive friends from 4 to 8 p.m. Friday at Rosenberg Chapel of Hackman Family Funeral Homes, 807 E. Chicago Road, Sturgis. Funeral services celebrating the life of Janet L. Grove will be held at 2 p.m. Saturday at the funeral home. Mr. Larry Wallman will officiate. A graveside committal will follow the service at Burr Oak Cemetery in Burr Oak.
The family suggests those wishing to make a memorial donation in Mrs. Grove's memory consider H&C Burnside Center, 65 Grahl Drive, Coldwater, MI 49036.
Her obituary is also at www.hackmanfamilygfuneralhomes.com, where personal messages of support may be left for the family.