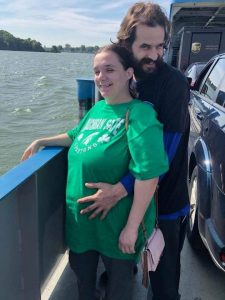 Jessica Lynn Gould and Baby Shea Austin Hansen passed away Tuesday, December 4th, 2018 in a house fire in White Pigeon. She was born June 30th, 1983 the daughter of Robert and Margaret Gould.
Jessica was employed at Arby's in Three Rivers.  She loved to watch the movie, Princess Bride and adored kids and dogs.  She will be truly missed by all who know her.
Together, they are lived on thru parents, Robert and Margaret Gould; husband, Wayne Hansen; sisters, Amanda Gould, and Caryle Hansen; brothers, Charles Walden and James Gould; two nephews, Johnathon Haisam and Aries Haisma and two nieces, Shanna Bingaman and Susann Bingaman. They were preceded in death by grandparents; Grady Earl Walden and Velvie Charleen Walden; father in law, Donald Ray Hansen Jr. and a cousin, Shea Michael Austin.
Services will be held Saturday, December 15th from 1 to 3 with a lunch following after from 3 to 5 at New Hope Assembly Church 56652 Buckhorn Rd, Three Rivers, MI 49093.
Memorial donations may be dropped of at Arby's, 700 S. U.S. Highway 131, Three Rivers, MI 49093.
Arrangements by Hohner Funeral Home.