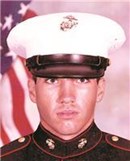 John Christopher Williams, age 57, of Sturgis, passed away unexpectedly Monday morning Dec. 10, 2018, at his home.
He was born Nov. 13, 1961, in Sturgis, a son of John and Loretta (Patrick) Williams.
John resided most of his life in Sturgis and also had lived six years in Hazard, Ky.
He had been employed at Iceburg Enterprises, Burr Oak Tool and International Paper, all in Sturgis.
John was a member of Sturgis Church of the Nazarene and enjoyed listening to music, reading and watching movies.
John was proud to have served his country in the U.S. Marine Corps for four years, earning the rank of lance corporal.
He is survived by his mother, Loretta Williams of Sturgis; a sister, Jody Williams of Sturgis; a niece, Teresa (Annabelle Miller) Williams of Lansing; a nephew, Aaron (Kayla) Romero of Sturgis; two great-nieces, Keaira and Riyah; and several aunts, uncles and cousins.
He was preceded in death by his father; grandparents Amos and Lula Patrick and Eli and Melda Williams; and uncles Billy Ray Patrick and Ralph Patrick.
The family will receive friends from 5 to 8 p.m. Thursday at Rosenberg Chapel of Hackman Family Funeral Homes, 807 E. Chicago Road, Sturgis. A graveside service and burial will take place at 10:30 a.m. Friday at Fort Custer National Cemetery in Augusta. The Rev. John Shoup of Sturgis Church of the Nazarene will officiate. Full military honors will be conferred by the Fort Custer Honor Guard and the U.S. Marine Corp.
In lieu of flowers, memorial donations to the family would be appreciated, c/o Loretta Williams.
His obituary is also at www.hackmanfamilyfuneralhomes.com, where personal messages of support may be left for the family.