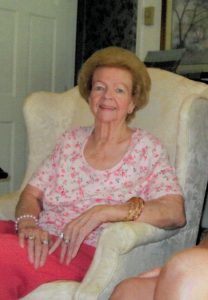 Josie Maria Smith Rangler, age 86, of Centreville, passed away on Wednesday, December 5, 2018 at her home.  Josie was born at the Culpepper Place in Whitesburg, GA on October 26, 1932, a daughter of Thomas Walter Smith and Belle (Hyatt) Smith.
At 3 years old, Josie and her family moved to Waynesboro, GA. A graduate of 1948 Waynesboro High School, Josie was recognized and given the State of Georgia All Star Basketball Player Honor in her senior year.  Josie was a great basketball player, playing the six-player game at the forward position.  She loved the game, watching it and playing it.  In the fall of 1948 she attended her freshman year at Lagrange College in Georgia.
In 1949, she came to Centreville to live with her brother in law and sister, Rev. and Mrs. Bruce Brown.  Bruce was the Centreville United Methodist Minister and her sister Murzelle were so good to her.  At this time, she began and completed Parson's Business School in Kalamazoo.
Josie's working career was at Robena Keasey Insurance Company, St. Joseph County Health Department, and Centreville State Bank, all of Centreville.  She also was employed at Fibre Converters of Three Rivers for 13 years, where she was the head receptionist and secretary.  Josie loved her job and all of her co-workers.
On February 14, 1953, in a 7 o'clock candlelight service at the Centreville United Methodist Church, Josie married Richard "Dick" Rangler.  They were married for 55 years.  He preceded her in death on April 19, 2008.
From 1964 to 1967, Josie and Dick ran and operated the only public swimming pool in the area.  It featured a full arcade, snacks, jukebox, 2 restrooms, a bar with 2 gas grills, horseshoes, basketball and a 9-hole golf game.  The individual cost was 50 cents a day.  Several companies used their beautiful facility for their company parties and a local church; the cost was $25.  Josie had such a big heart and always looked after the children who were dropped off for the day by giving them food and dry towels.
In August of 1969 while working at the Centreville High School football field with other dedicated parents building the new locker rooms and concession stand, on the way home Josie saw that a 'For Sale' sign had just been put up on a little corner building in downtown Centreville.  She looked at Dick and said, "Dick, we are gonna buy that building and put a little grocery store there!"  Dick said, "We are?"  Josie said, "Yes, we are!"
Their little grocery store on the corner opened December 12, 1969, and Rangler's Grocery began.
Josie was an avid reader, and saw an article in the Detroit Free Press on the future Michigan Lottery.  She wrote the State of Michigan Lottery with great interest of becoming a retailer.  In 1972, when the lottery began, the Rangler's were one of the first lottery retailers in St. Joseph County.
In 1973, Josie was named Centreville Woman of the Year.  In 1975, Josie was co-owner with her husband Dick, and built a new store and moved to a new location in Centreville.  Rangler's Grocery saw many progressive, positive "ahead of the game" changes over the years that continually catered to their customers.  Each customer was so important; customer recognition, getting the customer checked out quickly, and customer appreciation.  Being open 5am to 11pm every day of the year, including the holidays, was Josie's life.
Josie was also co-owner of Rangler's Filling Station, a full service station, located across the street from the grocery store, also selling Shell Gas and products.
In 1976, Josie wrote the Budweiser Company.  She loved the Budweiser Clydesdales and their Wagon so much.  She asked the company if the Budweiser Clydesdales Team could come to the Centreville Fair, and they did.
Rangler's Grocery was known as "Rangler's" and became "The Hub" of Centreville.  Josie loved running the register, talking with customers, and getting to know the townspeople.  She truly loved the people of Centreville.  The customers and employees became like family to her.  She was always a gentle, warm, kind, positive, classy, and loving lady, with an open heart and open ear; listening and encouraging.  She loved helping all the High School kids and college students who worked at the store on their life journey and educational path.  Rangler's Grocery and Rangler's Filling Station were sold in August 1995 to her son Ed and daughter-in-law Diane Rangler.
In retirement, Josie loved to go south to Waynesboro, GA to see her family there.  She had a great love for I-75.  Once on "I-75 South" she was on her way "Home."  She loved to read highway maps and loved the interstate system.  She loved to read newspapers, books and magazines, watching Hallmark movies and her much loved Georgia Bulldogs Football Team was her favorite TV viewing.  She also loved to laugh, have fun, listen to music, play cards and dance in her early years.  Josie loved life, her family, her friends and helping others.  She had a huge giving heart.
Preceding Josie in death are her parents, husband, siblings Felton Smith, Ibrey Smith Davis, Thomas Smith, Murzell Smith Brown, and Hyatt Smith; brother-in-laws Bruce Brown, Bootsie Davis, and Frank L. Perry; and sister-in-laws Marge Dillon Smith Cross, and Eunice Mallard Smith.
Surviving are her sister Dorma Smith Perry of Waynesboro, GA; sister-in-law Enid Vargas Smith of Waynesboro, GA; son Ed (Dianne) Rangler of Centreville; daughter Candy Rangler of Centreville; son Clint (Sue) Rangler or Sturgis; granddaughter Toni Rangler of Kalamazoo; grandson Ed (Karen) Rangler of Kalamazoo; great grandson Ed Rangler of Kalamazoo; cousin Irma (Hyatt) Shelnutt of Franklin, GA, and several nieces and nephews.
Relatives and friends with be received on Monday from 2 to 7 pm at Eley Funeral Home, Centreville.  Religious services will be held on Tuesday at the United Methodist Church in Centreville at 11 am with Pastor Emily Hansson officiating.  A luncheon will follow.  In lieu of flowers, memorial contributions can be directed to Centreville United Methodist Church or Hospice Care of Southwest Michigan. Online condolences can be left for the family at www.eleyfuneralhomes.com.