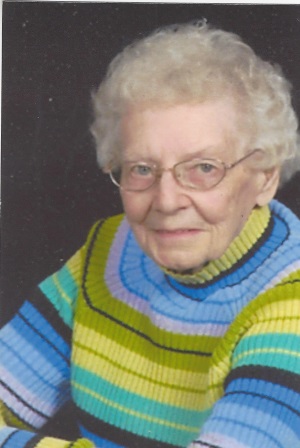 On Friday, December 21, 2018, Leone Viola (Schoch) Huff of Volinia went to her heavenly home to be with her Lord and Savior. She passed away at her home after a long illness surrounded by her family.
Leone was born in Howardsville, MI on December 26, 1914, to Leora and Arthur Schoch. Shortly after her birth, her family moved to a farm on Hemlock Lake Road in Marcellus. She attended Bly School and graduated from Marcellus High School in 1932.
On September 23, 1934, Leone was united in marriage to John Wendell Huff on the Huff Farm in Volinia Township. John died on September 28, 1988.
Leone was a devoted and loving mother to her children: Ethelyn M. Huff of Grand Rapids, Donald L (Ruth) Huff of Marcellus, and John R. Huff of New York City. She is also survived by nephew David Dellinger and nieces: Karen Moser, Sherry Dellinger, Sandra Lebo, and Renee DeSchutter. She is preceded in death by her four sisters: Hazel Schoch, Lois Schoch, Loraine Dellinger, and Evelyn Dellinger and two brothers: Gladwin Schoch and Neill Schoch.
Leone enjoyed nature and the outdoors. She took much pride in her vegetable and flower gardens. She especially loved roses and maintained her rose bushes well into her 90's. Another enjoyable pastime was bird watching. She was able to identify many birds by their songs and calls. Leone really looked forward to the annual family camping trip which started in the early 1950's before campsites had any kind of modern conveniences.
Leone was a long time member of the Volinia Baptist Church where she was a Sunday School teacher for many years and served as a church deaconess. She was also a member of the Missionary Society.
The family would like to welcome friends for a visitation service on Monday, December 24, 2018 at 11:00 AM . The funeral service to celebrate Leone's life will be held at 12:00 PM (Noon) on December 24, 2018, at the Volinia Baptist Church. Burial will take place at Crane Cemetery. Memorial contributions may be directed to Hospice Care of SW Michigan, 222 N. Kalamazoo Mall, Suite 100, Kalamazoo, MI 49007 or Volinia Baptist Church, 19526 Marcellus Hwy, Decatur, MI 49045. Online condolences may be left at www.materralstonfuneralhome.com.