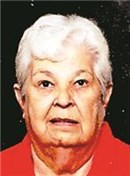 Nancy L. Nichols, age 81, of Colon, passed away Monday, Dec. 3, 2018, at Borgess Medical Center in Kalamazoo.
Nancy was born Dec. 24, 1936, in Colon, a daughter of the late Audley G. and Dorothy (Dingman) Nichols.
She had lived all her life in Colon, graduating from Colon High School with the class of 1954.
Nancy had worked at Colmer Division of Maxitrol Company in Colon for 38 years, retiring in 1992.
She is survived by two daughters, Audrey Barrett and Stephanie Fredenburg, both of Colon; five grandchildren; four great-grandchildren; two brothers, Richard G. (Carol Ann) Nichols and Gerald L. Nichols, both of Colon; and several nieces and nephews.
The family will receive relatives and friends from 5 to 7 p.m. Tuesday at Schipper Funeral Home in Colon. A funeral service celebrating the life of Nancy L. Nichols will be held at 11 a.m. Wednesday, December 5, 2018, at the funeral home, with the Rev. David J. Farrell officiating. Burial will follow at Lakeside Cemetery in Colon.
If desired, the family suggests memorials be made in memory of Nancy to Colon Rescue Squad. Envelopes are available at the funeral home.