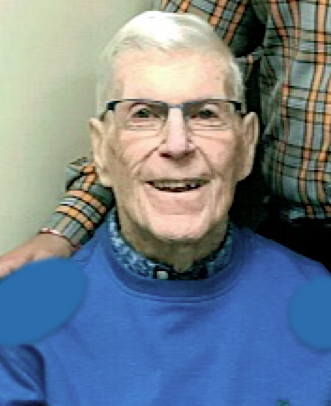 Sherman Dunafin, Jr., 95 of Sturgis, passed away after an extended illness on Wednesday, December 12, 2018 at his home surrounded by his loving family.  He was born on January 4, 1923 in the Mongo-Stroh area in Indiana.
Sherman's childhood was spent in an orphan home until 1933 at the age of 10 when his foster parents, George and Martha Tennant of LaGrange, took him home to live with them on their family farm.  He remained there until after graduating from Mongo High School in the "top 8 of 8" of his class.  He was 17-18 years old when they officially adopted him. Being of age he was able to retain his name.  Being adopted, he always knew his 5 siblings, 2 brothers and 3 sisters.
In 1943, they sold the family farm and moved to LaGrange.  At this time, he went to work in Sturgis at Formed Tubes Inc.  In 1947, he was married and had one son.  That marriage ended in divorce.  In 1955, he went to work as a meat cutter for his sister who owned Foodland Market.  Later, the store was sold to Harding's in 1959 and he worked there and at Purity Market in LaGrange.  In 1960, he was a manager at Burger Dairy Stores in Coldwater.  He then was manager in Sturgis.
Sherman married Marilyn Smoll at St. Paul's Lutheran Church, Centreville, on August 5, 1972.   Together they managed the Burger Dairy Store, which was owned by his sister for 13 years until the store was sold.  He and Marilyn had one son together.
In 1983, he retired from Burger Dairy.  In 1984, he went to work for Sturgis Public Schools as a bus driver.  It was a job he truly enjoyed.  He especially enjoyed taking the kids on field trips, to their sporting events, and his regular route.  He was fortunate to be the first driver to get the new diesel bus.  He retired from Sturgis Schools in 1994 and went to work for the City of Sturgis at Sturgis Compost for the next 10 years. He officially retired in 2004.
Sports were always Sherman's entertainment, especially NASCAR and Michigan State.  His other great love was mowing his yard, which he took great pride in, and did until spring of this last year.  He was always noted for his straight lines!
Sherman is survived by his wife of 46 years, Marilyn Dunafin of Sturgis.  He had 4 children: Gaylord (Cheryl) Dunafin of Sturgis and Patrick Dunafin (Emily Pirronello) of Chicago, step children Stacey Lahman (Jeff Fuller) of Centreville and Shane Schrader of Paw Paw; and 8 grandchildren Curt Dunafin of LeRoy, IL, Brandon Lahman of Westminster, MD, Derek Lahman of Yale, MI, Dustin Lahman of Sterling Heights, Ian Lahman of Three Rivers, Blaine Lahman of Conroe, TX, Elizabeth Cook of Angola, IN, and Danielle White of Centreville. He loved his grandchildren dearly and wanted to thank them for all of the calls, visits and love bestowed upon him. Fifteen great grandchildren also blessed this family.  Sherman's brother Dennis Brumbaugh of Fort Wayne, also survives.
Sherman was preceded in death by his parents, great granddaughter Laura Dunafin, and siblings Berdella Crowell, Truman Arner, Janice Dunafin, and Shirley Bucknell.
He had two important dates yet to keep.  They were Christmas, while all of the family was home, and January 4, which was his birthday.  Sherman would have been 96 years old.
Sherman wanted his wife Marilyn to know just how thankful he was for all of the love, support, dedication, and care she gave him over the years.  He loved her dearly and loved their life together.
The family would like to thank Sturgis Hospice for his great care from Dr. Keyur Patel, Rose, Jeanine, Pastor Rodger Moyer, and especially JoAnn Allshouse.
According to Sherman's wishes, cremation has taken place.  Memorial services and a private burial will be held at a later date.  Memorial contributions can be given in Sherman's honor to Mark 10:13 Early Childhood Center at St. Paul's Lutheran Church, Centreville.
Arrangements were entrusted to Eley Funeral Homes, Centreville.  Online messages can be left for the family at www.eleyfuneralhomes.com.