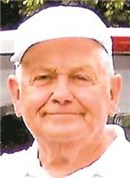 Virgil Hicks, age 88, of Sturgis, passed away Wednesday, Dec. 26, 2018, at Parkview LaGrange Hospital in LaGrange.
He was born Aug. 5, 1930, in Wayland, Ky., a son of the late Andrew and Eva (Hicks) Hicks.
Virgil was a veteran of the U.S. Army, serving during the Korean War and earning the rank of corporal. He was a prisoner of war and earned the distinguished Purple Heart Medal for his bravery in battle. His injuries from the war eventually led to his disability and loss of hearing, as he has been completely deaf for over 20 years.
He enjoyed fishing, hunting, especially for squirrels, puttering around the house and yard and eating at Savory Restaurant in Sturgis. Virgil always liked to keep busy and never sat still.
Surviving are two daughters, Beverly (Mark) Chaddock of Centreville and Debra (Ronald) Groff of Howe; five grandchildren; three great-grandchildren; and two sisters, Marie and Nancy.
He was preceded in death by his parents; four sisters; and three brothers.
The family will receive friends and relatives from 4 to 7 p.m. Sunday, Dec. 30, 2018, at Hackman Chapel of Hackman Family Funeral Homes, 114 S. Nottawa St., Sturgis.
Services celebrating the life of Virgil Hicks will be held at 2 p.m. Monday at the funeral home, with Pastor Larry Wallman officiating.
Interment will follow in Oak Lawn Cemetery, with full military honors conferred by U.S. Army Honor Guard and Capt. John J. Kelley V.F.W. Post #1355.
Memorial donations may be directed to St. Jude Children's Research Hospital . Envelopes are available at the funeral home.
His obituary is also at www.hackmanfamilyfuneralhomes.com, where personal messages of support may be left for the family.