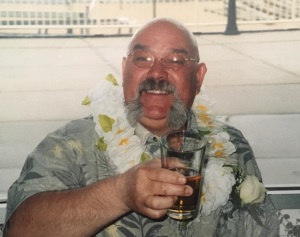 Mark Daniel "Danny" Motter, age 63, of Lawton, passed away peacefully in his sleep on Tuesday, January 1, 2019.
Dan was born on Tuesday, April 05, 1955, in Kalamazoo.  He was the sixth of what would eventually become the seven children born to Ira and Gladys L. (Oswalt) Motter.  He was a short and (in his words) "husky" child who enjoyed playing sports and finding trouble outside with his older brothers.  Those brothers loved to get rough with Danny when they got the chance, but they also understood who the "baby" was and what their mom would do to them if they got caught.
He continued his love of sports throughout his school years.  He experienced success in both baseball and football and would be the first to tell you that he "played" basketball…and by play he meant only when his team was up by a lot, or down by a lot.  He played baseball for a short time at Glen Oaks Community College. He loved books, old Western films and of course…The University of Michigan! He also enjoyed skiing, which is where he met Karen Virgil.
They were married and soon had a son, Matthew.  Four  years later they welcomed a daughter, Lindsay.  Dan loved being a father. It was something that he had always wanted and he loved his kids with everything he had.  He was by no means a perfect parent and a subsequent separation from Karen led to the typical family strife that broken homes so often are forced to endure.  However, Dan's children never once questioned the profound love and pride he felt toward them.
Dan would find love again when he met Barbara Jean Day.  They spent many years together and then were married on April 11th, 2008 in Houghton Lake.  Danny and Barbara have remained very happily married for over a decade.
He loved his family deeply, but for Danny, having the same DNA was not a requirement for achieving family status.  A man who seemed to suffer from "chronic-joy", he made friends everywhere he went. His children would often insist on driving separate from Dan, when going to a restaurant or bar.  They wisely did this, because they knew that there was a slim chance of them getting home once Danny realized that he knew eighty percent of the people in that particular establishment and was going to need to have a conversation with ALL OF THEM.
He came to know nearly everyone in the midwest in a variety of ways.  He knew people from school, some from work, many were friends of friends who met Danny and immediately loved him, some he met at bars and/or restaurants, but more often than not, he knew the person from something related to softball.
Like many aging jocks, Dan turned to softball once the opportunities to play baseball (and his body's willingness to do so) went away.  It was a love affair that would span nearly four decades. He loved the game, but it was more than that. It provided him an outlet for his competitiveness.  It allowed him to age slower, by providing him weekly, "I Still Got It" moments. It gave him the opportunity to dive…head first into the base of his choosing…from ten feet away…even when the play wasn't going to be all that close.  That dive sometimes resulted in a bounce. This writer believes that Danny's penchant for the head first slide was the direct result of the physical and emotional scarring that he endured from one too many feet first slides (and the subsequent strawberry he incurred) while wearing his shorty short Bike athletic shorts.
Softball gave him all of that, but the most important gift the game gave him, was the ability to do all of those things, while surrounded by the friends and family that he loved.  Dan derived great pleasure from being around people and they reciprocated in kind. He had such an effortless charm and an aura of good humor, that it was nearly impossible not to enjoy the man.  His love of life was contagious.
As much as he enjoyed his family, his friends and the game, there is one thing that he enjoyed above all else.  That thing was being a grandfather. He was absolutely made for that role. He loved cuddling them when they were babies and rough housing when they were older.  You would often find him in the stands of the local youth sporting events, cheering on his grandchildren…albeit somewhat aggressively…and those kids loved him for it.
Danny Motter was a special man who will be desperately missed.  His absence will leave a "husky" sized hole in the hearts of all who had the pleasure to call him friend, family, Dad or Papa.  However, his bright bearded smile and his wonderful, squinty- eyed laugh will eventually fill that hole with the memory of a truly wonderful man.
Surviving are Dan's children; one son: Matthew (Jessica) Motter of Lawton, one: daughter: Lindsay (Chris) Tindle of Parchment, step son: Aaron Hoskinson of Parchment, two sisters: Barbara Hamilton, Karen (Norm) Carlson, three brothers: Tom (Kathy) Motter, Roger (Donna) Motter, Robert (Bonnie) Motter, sister-in-law: Shirley Motter, five grandchildren: Landon, Kallon, & Emeri Motter, and Natalee & Lydia Tindle, and many nieces and nephews.
Dan was preceded in death by both of his loving parents and one brother: Gerald Motter.
The family will welcome friends for visitation service on Friday, January 4, 2019 from 2:00 to 4:00 PM and 6:00 to 8:00 PM and funeral service on Saturday, January 5, 2019 at 11:00 AM. The family will have a private burial of cremains at a later date. Memorial donations may be directed to The Shane Mohney Memorial Scholarship Fund.  Online condolences may be left at www.materralstonfuneralhome.com.