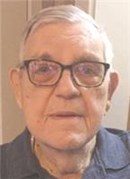 Floyd G. Hodges, age 97, of Sturgis, passed away Monday, Jan. 7, 2019, at Sturgis Hospital.
Floyd was born Dec. 3, 1921, in Cowan, Tenn., a son of the late Howard E. and Effie J. (Grandstaff) Hodges.
Floyd grew up in Colon, graduating from Colon High School with the class of 1942. He moved to Sturgis in 1948.
On Sept. 28, 1947, he married Lola J. Gilbo in Sturgis.
Floyd served in the U.S. Army for 31 months during World War II with the first infantry division, The Big Red One, in the European theatre in North Africa and Italy.
He had worked as a truck driver 45 years, logging more than 1 million safe miles.
He was a member of Sturgis Missionary Church.
He is survived by his wife, Lola J. Hodges of Sturgis; a daughter, Julie D. (Wes) Thatcher of Three Rivers; two sons, Keith C. (Connie) Hodges of New Albany, Ind., and Brian W. (Ila) Hodges of Sturgis; 13 grandchildren; 17 great-grandchildren; a niece, Janet (Dennis) Stoll of Sherwood; and a nephew, Ivin (Sherry) Riddle of Mendon.
He was preceded in death by two brothers, Willard (Bud) and James C. Hodges; and a son-in-law, Joseph White.
The family will receive relatives and friends  from 6 to 8 p.m. Thursday at Schipper Funeral Home in Colon. Funeral services will be at 10 a.m. Friday, Jan. 11, at the funeral home, with Pastor Joshua Brueck of Sturgis Missionary Church and the Rev. Rodger Moyer of Sturgis Evangelical Church officiating. Burial will follow at Lakeside Cemetery in Colon with military honors conferred by Colon American Legion and the U.S. Army Honor Guard.
If desired, the family suggests memorials be made in memory of Floyd to Sturgis Missionary Church or the charity of one's choice .