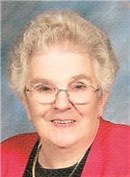 Jean I. Kline, age 95, of Sturgis, passed away Saturday afternoon, Jan. 5, 2018, at Borgess Medical Center in Kalamazoo.
She was born July 29, 1923 in Iron River, a daughter of the late Harold and Clara (Asplund) Sensiba.
Jean resided in Sturgis since 1947, coming from Land O' Lakes, Wis.
On April 29, 1944, she married Paul H. Kline in Sturgeon Bay, Wis. He died April 3, 1999.
She had been employed by the Jewel Food Company in Chicago, and Walgreens in Chicago, Waukegan and Sturgeon Bay. She also worked at the Great Lakes Naval Training Station and LD Smith Shipyards in Sturgeon Bay.
Jean was very active and always willing to give of her time. Some of her many activities and memberships included past president of American Legion Auxiliary, past president of Mothers of WWII, Sturgis Hospital Escort Guild, Merry Doers FCE Club, Michiana Christian Women's Club and Salon #717 of the Eight and Forty and Burr Oak Home Club. She was a former member of St. John's Lutheran Church in Burr Oak and was a current member of Trinity Lutheran Church in Sturgis. Jean was past president of St. John's Lutheran Church Ladies Aid and past secretary of Trinity Lutheran Church Ladies Aid.
She is survived by her children, Pat (Bruce) Johnson of Niles, Christine (Dan) Malone of Sturgis, Kathy Kline of Sturgis, Wendy (Greg) Yesh of Burr Oak, Tom (Pam) Kline of Mendon, Terry Kline of Sturgis and Kerry Kline of Sturgis; eight grandchildren; eight great-grandchildren; four great-great-grandchildren; a sister, Ruth LaChance of White Fish, Mont.; a brother, Lee Sensiba of Tucson, Ariz.; and several nieces and nephews.
She was preceded in death by her parents; a brother, Thomas Sensiba; and her beloved Aunt "Mim" Asplund.
The family will receive friends from 4 to 6 p.m. Thursday at Rosenberg Chapel of Hackman Family Funeral Homes, 807 E. Chicago Road, Sturgis. Funeral services celebrating the life of Jean I. Kline will be held at 11 a.m. Friday at the funeral home. The Rev. Calvin Kolzow of Trinity Lutheran Church will officiate. In accordance with her wishes, cremation will follow the services. Private burial of the ashes will take place at a later date at Oak Lawn Cemetery in Sturgis.
In lieu of flowers, the family suggests those wishing to make a memorial donation in Mrs. Kline's memory consider Sturgis Wind Symphony, P.O. Box 164, Sturgis, MI 49091; or Trinity Lutheran Church, 406 S. Lakeview Ave., Sturgis, MI 49091.
Her obituary is also at www.hackmanfamilyfuneralhomes.com, where personal messages of support may be left for the family.