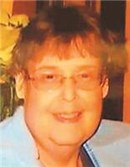 Julie Ann Blanchard, age 60, of Swartz Creek, and formerly of Sturgis, passed away Monday, Jan. 21, 2019, at her home.
She was born July 25, 1958, in Sturgis, a daughter of the late Elwin and Joyce (Bedford) Blanchard.
Julie resided in Swartz Creek for more than 20 years, coming from Sturgis, where she was a graduate of Sturgis High School with the class of 1976. She furthered her education at Ferris State University, where she earned a bachelor's degree in education.
Most of Julie's working life was as a medical lab tech with Genesys Regional Medical Center.
She enjoyed ceramics, traveling and loved her bulldog, Hoover.
Julie is survived by a sister, Patti Blanchard of Benton, Harbor; a brother, Terry (Roberta) Blanchard of Clarkston; three nieces, Christine (Derek) Dobrydney of Williston, Vt., Jennifer Blanchard of Waterford and Amanda (Cary) Gess of Stevensville; great-nephew and great-niece Ixac Gess and Annabell Gess; two aunts, Ruth Ann (Chuck) Sprowl of Sturgis and Sharon Wetzel of New Orleans; two uncles, Jack (Gail) Blanchard of Hurricane, Utah, and James (Marsha) Bedford of DeLand, Fla.; and several cousins.
The family will receive friends from 10 to 11 a.m. Saturday at Hackman Chapel of Hackman Family Funeral Homes, 114 S. Nottawa St., Sturgis. Funeral services celebrating the life of Julie Ann Blanchard will be held at 11 a.m. Saturday at the funeral home. The Rev. John Shoup of Sturgis Church of the Nazarene will officiate. In accordance with her wishes, cremation will follow the service. Private burial of the ashes will take place at a later date at Oak Lawn Cemetery in Sturgis.
Memorial donations would be appreciated to the American Cancer Society , P.O. Box 22718, Oklahoma City, OK 73123.
Her obituary is also at www.hackmanfamilyfuneralhomes.com, where personal messages of support may be left for the family.