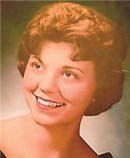 Mary Margaret "Marge" Magnus, age 77, of Athens, passed away on Saturday, January 26th, 2019, at her home surrounded by her loving family.
Marge was born August 22nd, 1941, in Mishawaka, to Wayne and Kathleen (Klein) Good. Before her family's move to Sturgis, her early childhood years in Mishawaka were spent enjoying time on her Grandma and Grandpa Klein's farm. Marge was proud of her Irish heritage, especially the Joyce side of her mother's family who hailed from County Mayo. She also loved sharing the fact that part of the Klein farmlands are now known as the University of Notre Dame. Marge attended Holy Angels Catholic School, graduated from St. Joseph Academy in Adrian, MI, and attended St. Mary's College in Notre Dame, Indiana. She drew on her strong faith to carry not only herself, but her family, through her last days. Without her family realizing it, Marge planned her earthly exit on her terms and managed the impossible; she brought her six children together in the same place at the same time to comfort her and each other by sharing family stories, countless heartfelt laughs and to create new cherished memories.
Besides her faith, Marge was known for her broad intellect, quick wit, keen sense of humor and turns of phrases. Marge loved to read and was a true artist whose eye and appreciation for beauty and nature led her to become a collector of many (many) things. She used her given talents to create everything from the best Sunday dinners to her treasured handcrafted cards. Marge's other favorite pastime was watching Detroit Red Wings and Detroit Tigers games with her soulmate "Patch" and their beloved rescue cat Cookie Lee. Marge is survived by her husband of 38 wonderful years, Daniel Magnus; her children Monica Smith, Sturgis; Meggan Cox, Burr Oak; Michael (Karla) Smith, Grand Rapids; Jason (Kristin) Magnus, Battle Creek; Jayma (Tracy Parham) Mitchell, Jackson; and Lynn (Gabe Stears) Magnus, Burr Oak; her eleven grandchildren Morgan, Michael, Kierra, Jayda, Trey, Bradly, Raegan, Charlie, Grant, Myah and Shane, who knew her as their proud "Mimi"; her brother, Jon (Karen) Good, Sturgis; and several nieces, nephews and extended relatives. Marge also leaves behind dear friends from her Kirsch Company years and the Athens' Lazy Stampers Card Club. She was preceded in death by her parents Wayne and Kathleen (Klein) Good, along with her brother and sister-in-law Joseph and Rita (Notestine) Good. A private Memorial Mass of Christian Burial will be celebrated at Our Lady of Fatima Catholic Church, Union City, MI.
A private interment will take place at a later date. In lieu of flowers, to honor Marge, memorial contributions may be directed to Burr Oak Community Schools, Burr Oak, MI, or to the Humane Society of South Central Michigan, Battle Creek, MI. The family welcomes messages and memories in their online guestbook at www.arsulowiczbrothers.com.