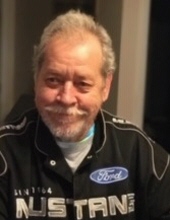 Reedis Singleton, age 67, of Sturgis, passed away early Monday morning January 14, 2019 at his home.
He was born June 6, 1951 in Hazard, Kentucky son of the late Roy and Verna (Young) Singleton.
Reedis resided in Sturgis for the past 50 years coming from Kentucky.
On June 9, 1969 he married Darlene Gushwa in Sturgis.
Reedis was a dedicated employee of the Sturgis Foundry for 30 years where he held the position of Maintenance Foreman and he and Darlene owned and operated Brite-N-Clean Cleaning Service in Sturgis for 25 years. Before it became known as "flipping a house", he and Darlene remodeled and sold several homes over the years.
He was a past member and President of Eagles Lodge #1314. For several years he played league fast pitch softball. He was a lifelong Cincinnati Reds fan and loved the Detroit Tigers. Reedis enjoyed watching re-runs of the Andy Griffith show, attending classic car shows and he was the proud owner of a 2003 Ford Mustang Saline. He loved sharing ice cream with his grandchildren and drinking coffee at Herrmann's Restaurant.
He is survived by his wife of 49 years: Darlene; his children: Verna (David) Blanchard of Sturgis, Reedis (Nilka) Singleton of Whitestown, Indiana, Debra Singleton of Sturgis and Diana (Ken) Stone of Sturgis; eight grandchildren: Storm (Raechel) Singleton, December Blanchard, April Blanchard, Michael Singleton, Kaitlyn Stone, Emily Stone, Matthew Singleton, and Sarah Singleton; one great granddaughter: Sofia Singleton; two sisters: Nadine (Gordon) Caudill and Dicie (Larry) Smith both of Hazard, Kentucky; two brothers: Darrell (Beth) Singleton of Hazard, Kentucky and Otis Singleton of Nicholasville, Kentucky and many nieces and nephews.
He was preceded in death by his parents; one brother: James Roy Whitaker and a special sister-in-law: Marlene Gushwa.
In accordance with his wishes cremation has taken place. A gathering of family and friends to celebrate and honor Reedis' life will be held from 1:00 to 3:00 P.M. Saturday at the Hackman Chapel of Hackman Family Funeral Homes, 114 S. Nottawa St., Sturgis, MI 49091, 269-651-2331. A continued time of fellowship and the sharing of a meal will follow the gathering at the First United Methodist fellowship hall at 200 Pleasant Ave. in Sturgis.
The family suggests those wishing to make a memorial donation in Mr. Singleton's memory consider Three Rivers Hospice, 701 S Health Pkwy, Three Rivers, MI 49093.
The obituary is also at www.hackmanfamilyfuneralhomes.com where personal messages of support may be left for the family.