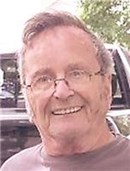 Carl J. McNall, age 75, of LaGrange, died on Tuesday, Feb. 19, 2019, at Visiting Nurse and Hospice Home in Fort Wayne.
Carl was born Oct. 24, 1943, in Fort Wayne, to Carl R. and Betty Jane (Coney) McNall. They preceded him in death.
Living most of his life in LaGrange County, he had worked at Mastercraft Inc. in LaGrange and Paramount in Sturgis.
Mr. McNall was a U.S. Navy veteran.
Surviving Carl are a daughter, JoAnna Zander of McHenry, Ill.; four sons, Rodney and Leslie McNall of Sturgis, Tim and Lori McNall of Manchester, Ind., David Vogler of LaGrange and Robert Vogler of Howe, Ind.; nine grandchildren, Chase McNall, Courtney Stephenson, Tyler Ernsberger, Merrisa McNall, Tanner McNall, Tyler McNall, Trey McNall, Theodore Vogler and Coraline Vogler; four great-grandchildren, Brayden Stephenson, Laila Stephenson, Brodie McNall and Kaida McNall; three sisters, Betty and William Teders of Avilla, Ind., Bonnie and David Bumgardner of Howe and Loretta and James Eash of Fort Myers, Fla.; and five brothers, Russell McNall of Burr Oak, Larry and Rhonda McNall of Fremont, Ind., Leland and Linda McNall of LaGrange, Herbert and Gladys McNall of LaGrange and Wayne and Helen McNall of Comstock. He also was preceded in death by his longtime companion, Vicki Vogler.
Funeral services will be held at 10 a.m. Monday, Feb. 25, 2019, at Frurip-May Funeral Home, 309 W. Michigan St., LaGrange, Ind. The Rev. Chris Lantz will officiate. Burial will follow at Riverside Cemetery in Howe, Ind.
Visitation will take place from 2 to p.m. Sunday, Feb. 24, 2019, at the funeral home.
Memorials may be made to Visiting Nurse and Hospice Home.
Condolences may be left for the family at www.fruripmayfuneralhome.com.