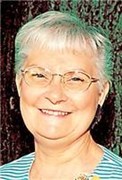 Mary A. Nihart, age 87, of Three Rivers, died Thursday, Feb. 21, 2019, at Grace Healthcare in Three Rivers, following an extended illness.
She was born May 13, 1931, in Elkhart, a daughter of Charlie and Catherine (Thilman) Parks.
Her early life was spent in Elkhart. She lived one year in Three Rivers and most of her life in the White Pigeon area. She was employed as a beautician and was a lifelong homemaker. She was a member of First Presbyterian Church of White Pigeon and a number of the church groups, and American Legion Auxilary #138. She enjoyed reading, crocheting, needlepoint and traveling.
On June 2, 1951, she married Jay A. Nihart Sr. in Elkhart. He preceded her in death March 28, 2004.
She is survived by two sons, Jay A. (Debra) Nihart Jr. of Constantine and Chris E (Becky) Nihart of Bristol, Ind.; six grandchildren; a brother, Phillip Parks of Elkhart; several nieces and nephews; and two sisters-in-law, Marla Parks and Betty Nihart. She was preceded in death by her parents; her husband; four brothers; and three sisters.
Visitation will be from 11 a.m. to noon Monday, Feb. 25, 2019, at First Presbyterian Church in White Pigeon. Services will begin at noon at the church, with Pastor Steve Kaszar officiating. Interment will be at 2:45 p.m. Monday in Little Pine Creek Cemetery, Goshen, Ind.
Donations may be directed to First Presbyterian Church or Great Lakes caring Hospice. Arrangements are by Farrand Funeral Home of White Pigeon.